KKW Beauty Just Announced A New Product That's Totally New For The Brand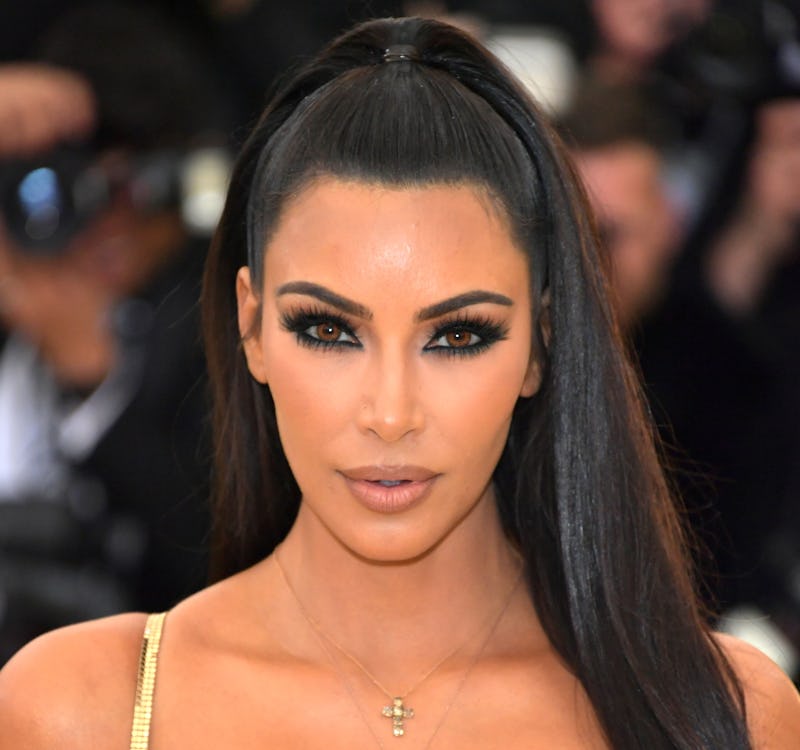 Neilson Barnard/Getty Images Entertainment/Getty Images
Kim Kardashian is the queen of nudes, but it's not always the ones she takes with her camera in the bathroom or for her latest KKW Fragrance launch. The beauty icon is also known for her love of nude lips, and now, KKW Beauty nude lipsticks and liners are on their way. It's honestly the perfect next move for the ever expanding brand.
In case you've been missing it, KKW Beauty has been doing the most but in a great way. Not only has Kardashian released her first collaboration with longtime makeup artist Mario Dedivanovic (as well as a second with the Glam Masters winner), but she's expanded the brand into quad highlighter palettes recently as well as created entire concealer kits. Basically, it seems great to be KKW and KKW Beauty.
Kardashian isn't slowing down, though. On Tuesday, she took to her personal Instagram account to announce the upcoming launch of eight new creme lipsticks and 3 new lip liners. All of the hues have something in common, too, they're all nudes. From ultra light peachy shades to deeper brown hues, Kardashian seems to be trying to corner the market on nude lipsticks, and with her latest KKW Beauty launch, she just may.
The launch shouldn't comes as too much of a shock to her existing fans, though. Kardashian has actually already launched a nude creme lipstick before. While a lot of focus was given to the KKW x Mario eyeshadow palette, don't forget that the collection also included Classic K, a bullet lipstick designed by Kardashian and Dedivanovic. The brand clearly already had their formula for these new nudes up their sleeve.
The other hint that they were coming? Kardashian said so herself a few months ago according to Teen Vogue. In an interview with People back in November, Kardashian admitted that she'd been wearing her very own lip liners and lipsticks to red carpet events, including New York Fashion Week. Presumably, she's continued to do so, and now, fans know what each of the shades look like thanks to the video posted to her personal Instagram account.
When will fans be able to get their hands on the eight new nude lipstick and liner shades? According to the brand and Kardashian's social media pages, they're launching on June 8. Yes, Kardashian did explain on Twitter that they will be sold individually, but if you really love KKW Beauty, a bundle will available as well. As of press time, however, no price has been announced for the latest launch.
How are fans feeling about new KKW Beauty lipsticks? Based on social media reactions, they seem stoked.
While some fans are bummed about the effect the lippies will have on their wallets, they're still excited for the upcoming launch.
The good news if you can't grab them during their debut, though, is that they don't appear to be a limited edition release for the brand. It looks like the KKW lipsticks will be here to stay.
As for the shades, some people are loving all eight of the upcoming colors.
If you want to be one of the first to snag one (or all) of the new KKW Beauty lipsticks and liners, mark your calendar for June 8. These new nudes from Kardashian are totally on brand for KKW Beauty, especially considering they've already launched creme liquid lips in all nude shades with Kardashian's sister Kylie Jenner. Now, she's branching out on her own with a classic, solid bullet formula. If you want to rock a nude like Kardashian, you can now.