Kim K's New Highlighter Palettes Will Give You A Rose Gold Glow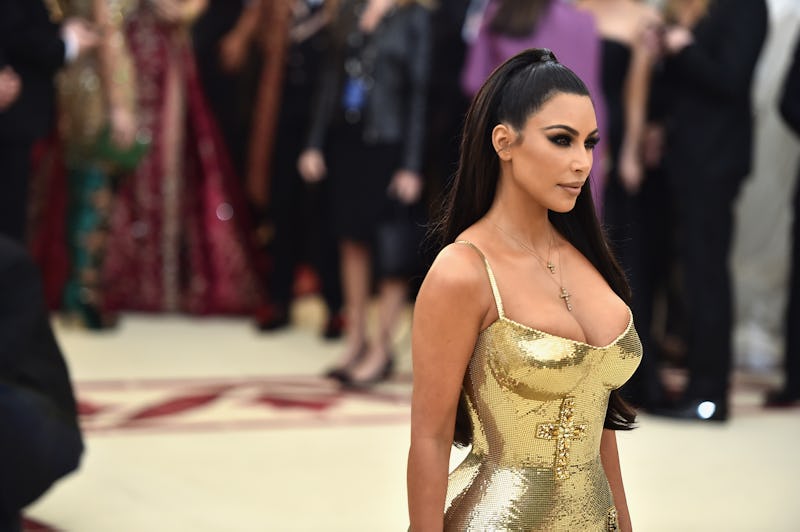 Theo Wargo/Getty Images Entertainment/Getty Images
The cosmetics arm of the KKW Beauty empire has a much-coveted and glow-giving new product on the horizon. Swatches of KKW Beauty's new Highlighter Palettes show just how versatile and complimentary the shades are. These highlighters will be your summer "glow to."
The KKW highlighter quads are dropping on Thursday, May 24 at 6 p.m. ET/3 p.m. PT. There are two palettes with four pans of product each. The quads boast shades that are designed be layered, mixed, and matched. You can build your glow and customize your sexy shimmer by combining shades within in each palette or cross pollinating colors if you purchase each.
Both quads are meant to suit all skin tones regardless — so don't stress if you think a total of eight highlighter shades isn't representative enough. They are mean to be swirled together for a DNA-distinct and dewy skin sheen. You can play with them and get super creative as you wish.
The brand released more details, further images, and more swatches of the product. It should get glow-seekers all sorts of excited about the debut drop later this week.
The palettes boast peach, pink, rose gold, bronze, and pearl shades, along with other variations in these quads.
Everything you need to see lives in this short promo clip.
Goddess-like glow is in your future. Just think about how many custom combos you can come up with by swirling several shades together. This is makeup sorcery at its finest.
That's some serious shimmer. The color spectrum of molten metallics is well-repped!
Bet you cannot pick a fave shade. But you can see that the glimmer is gorgeous and all the colors are totally compatible with one another.
Grab that big fluffy brush and swirl and swipe on the high points of your face, along your jawline and temples, and on your cheeks. Proceed to shine on. Rock your highlight, people!
Who doesn't love a crumbly product shot? You can appreciate the richness of the texture and formula thanks to photos such as this.
If you have been seeking a certified and Kardashian-approved glow, you are going to get it with the new highlighter quads. They are named #I and #II, respectively.
The big difference between these palettes and the cream or powder contour kits offered by the brand is that the highlighters are soft and meant to add some shimmer. The contour kits are designed to define the face through alternating shadows and light, matte and shimmer.
The highlighters are perfect for lazy summer days when you just want to add a little dewiness and not much else to your face.
While KKW Beauty and KKW Fragrance do not appear to be having an official Memorial Day Sale, the brand is offering its shoppers some worthwhile savings. KKW Fragrance confirmed free shipping. The pro starts today, Tuesday, May 22, and runs through next Monday, May 28, which is Memorial Day. So it's like a Memorial Day Sale when the shipping costs are removed. It's all a matter of perspective.
So, if you have some cash to burn, a few days off from work, and plan to hit the beach and to engage in a little retail therapy over the long holiday weekend, you have two choices courtesy of Kim K. You can shop the KKW Beauty highlighter quads and get a safe and sun-free glow all summer long. Since this is the premiere of the product, it is very likely that they will sell out instantly. That's usually the case with the brand's debuts.
However, if you've been wanting shop KKW Fragrance, you can enjoy free shipping and a little extra savings on the scents.