This "Gorgeous" Lyric Is Why Fans Won't Stop Believing It's About Tom Hiddleston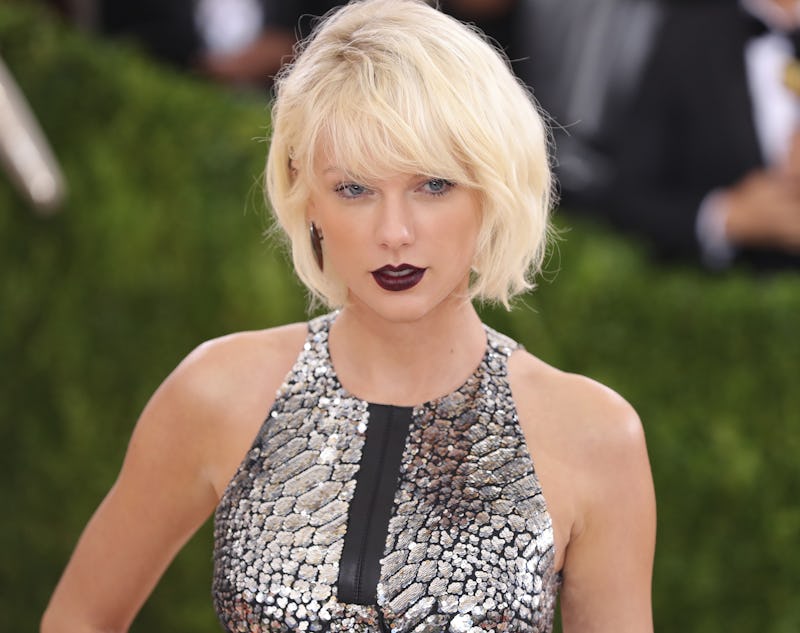 Neilson Barnard/Getty Images Entertainment/Getty Images
If you live on the Planet Earth, your Friday to-do list was probably something along the lines of, "1. Wake up, 2. Figure out who the new Taylor Swift song is about." And there's a lot of speculation out there, but one lyric in particular has some fans returning to the theory Swift's "Gorgeous" is about Tom Hiddleston, whom she dated for three months in 2016. Now, the evidence overwhelmingly points to the fact that the newest Reputation track is about Joe Alwyn, the 27-year old's current boyfriend. But some fans still aren't convinced.
And it all hinges on the lyric, "He's in the club doing I don't know what." Doesn't sound like much, right? But, in context, it really changes the timeline and that subsequently really trims down the possibilities about which ex-boyfriend she could be talking about.
Here's the entire chunk of lyrics in question:
"And I got a boyfriend, he's older than us
He's in the club doing, I don't know what
You're so cool, it makes me hate you so much (I hate you so much)"
When taken as a whole, the song pretty clearly points to Joe Alwyn. After all, Swift's last two boyfriends — Hiddleston and Calvin Harris — were both older than her and Alwyn are currently. But line about her boyfriend being in the club throws a wrench in things for fans. Because, according to them, the club-goer in question has gotta be Harris, right? He's a DJ, so the club is basically his office, and he's there more often than not. In fact, here's our boy now, definitively At Da Club.
In contrast, Hiddleston doesn't have much of a reputation for clubbing. When you Google "Tom Hiddleston club," the first result is tagged photos of the actor's character Loki on the website The AV Club. Adorable, but somehow not quite the club that Swift was referring to.
This matters because, if the lyric is actually about Harris and not Hiddleston, then "Gorgeous" implies that the blonde fell for whoever she's singing to when she was still dating Harris. And since the person Swift dated after the Scottish DJ was Hiddleston, you can understand her fans' confusion. If this song is really for Alwyn, perhaps the lyric should have been: "And I got a boyfriend, he's older than us / He's on set doing I know precisely what."
The first part of the lyric can stay, and in fact actually makes more sense if it's directed to the 26-year old Alwyn about the 36-year old Hiddleston. (Calvin Harris is 33, so it would be both weird and inaccurate for Swift to refer to him as "older than us" to Hiddleston, who has nine years on her.) Timeline snag or not, smart money is on the 26-year old British actor over the 36-year old British actor.
It's a particularly safe bet because even the singer herself is rumored to have confirmed the Alwyn Theory, during secret Reputation listening sessions that only a few of her most devoted fans were invited to. At these sessions, Swift reportedly made everyone present promise that, when the subject of "Gorgeous" came into question, they would set the record straight, according to Glamour. And they've largely held up their end of the bargain, as the story began making its way across social media after the song's release on Oct. 20.
But it can't reach everyone, and it can't convince everyone, especially with such a weird conundrum folded into the lyrics. More and more, it's looking like "Gorgeous" is about Swift's current boyfriend and not an ex, and that this lyric is just a mistake that slipped through the cracks.