Taylor Swift's "Gorgeous" Lyrics Seem To Reference Tom Hiddleston So. Many. Times.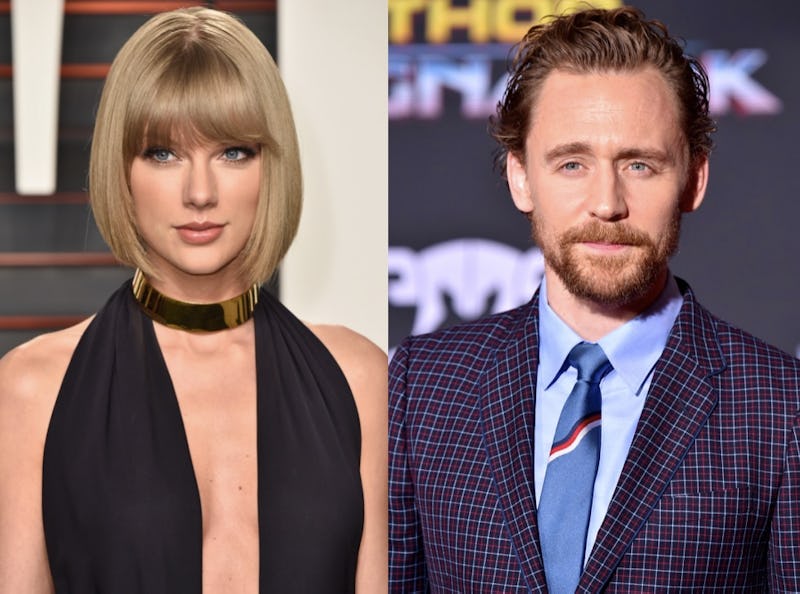 Pascal Le Segretain/Getty Images Entertainment/Getty Images (Taylor) Frazer Harrison/Getty Images Entertainment/Getty Images (Tom)
Reputation doesn't premiere until early November, but Taylor Swift released another single, "Gorgeous," on Friday. Swift announced that the new song would drop at midnight in series of bright pink Instagram posts on Thursday. Two of the pictures were just teasing the song, but one offered a short preview of synthesized vocals saying the title, "Gorgeous." The first single from the upcoming album, "Look What You Made Me Do", is about addressing Swift's tumultuous last couple of years in the spotlight, while the second, "...Ready For It?" is thought to be about her rumored relationship with actor Joe Alwyn. The lyrics to Swift's new song "Gorgeous" seem to be about her ex Tom Hiddleston, and there are plenty of clues.
The most obvious seem to be the title and the repetition of the lyric "you're so gorgeous" (Hiddleston is known for his statuesque handsomeness) as well as another telling reference to "ocean blue eyes." The chorus of the song then says: "You're so gorgeous, I can't say anything to your face, 'Cause look at your face, And I'm so furious, At you for making me feel this way, But what can I say? You're gorgeous." It's well known that Swift started dating Hiddleston shortly after her break up with Calvin Harris, and it's possible that she met the actor while she was still in a relationship. If that's true, it would definitely be inconvenient and a reason to be "furious".
The song comes two months after the premiere of the album's divisive first single. "LWYMMD" was met with mixed reviews; it was panned by some critics (and even some fans), but broke streaming records. The music video premiered during the 2017 VMAs and was met with a similar mixed reaction. That didn't stop it from being streamed a record-smashing 43.2 million times on YouTube in the first day. The lyrics to "LWYMMD" were dissected as fans tried to find out who the song might be addressed to, and in "...Ready For It?" the references to Swift's relationship with Alwyn proved equally interesting. This new song might be about another relationship, and it appears that it's about the beginning of Swift's romance with Tom Hiddleston.
The singer's references in "Gorgeous" do match the timeline of her relationship with Hiddleston. In one of the verses, she says: "And I got a boyfriend, he's older than us, He's in the club doing I don't know what". The timing of the split with Harris and the encounter in this song align, and there's good reason to believe that the boyfriend in the club "doing I don't know what" could be a reference to Harris' career as a DJ. In one of the later verses, she also sings: "There's nothing I hate more than what I can't have", which could also be a reference to the fact that a relationship between the Swift and Hiddleston would be off limits if she was already in a relationship.
There are also several descriptions that could fit Hiddleston's profile. There are, of course, the repeated references to "ocean blue" eyes. While a few of Swift's past BFs have had blue eyes, the actor is well known for his piercing blues. How many other stars have entire Pintrest boards dedicated to their pupils? Then there's the opening line of the track, which says, "You should take it as a compliment/That I got drunk and made fun of the way you talk". Hiddleston is from Westminster, UK, and it's possible that T. Swift was mocking his British accent. She also sings, "You should think about the consequence, Of your magnetic field being a little too strong." This might be a stretch, but Hiddleston is perhaps best known for his role as Loki in The Avengers series. Loki's super power is to create energy and force fields, which is suspiciously close to the magnetic field in Swift's lyrics.
Fans already have conflicting theories about the track. There's are many people who think the song is about Swift's rumored boyfriend Joe Alwyn. It's true that some of the lyrics don't add up; her boyfriend in the club is older, and Hiddleston is 36 years old to Harris' 33. There are still plenty of clues to suggest this song is about the origins of Hiddleswift, though, but unless an official statement is released fans may never know.
Editor's Note: This article incorrectly reported Tom Hiddleston's age as 38. It has since been corrected to reflect that he is 36 years old.