Taylor Swift's New Song "Gorgeous" Is Here & Fans Are Already Freaking Out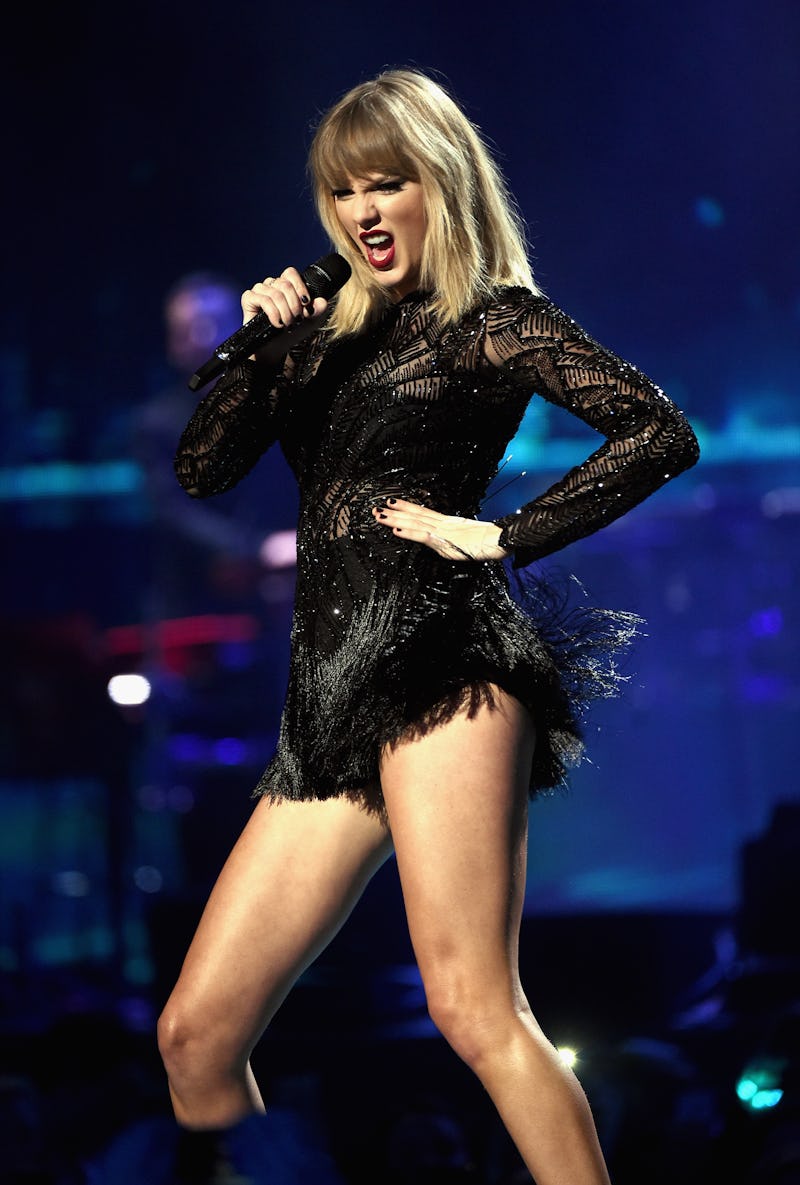 Kevin Winter/Getty Images Entertainment/Getty Images
Ever since she surprised fans with her first single, "Look What You Made Me Do," followed by a second song, "...Ready For It?", Taylor Swift fans have been on pins and needles, anxiously awaiting the release of her third track. And on Thursday night, Swift released "Gorgeous," the latest from her upcoming album Reputation. And fans are already freaking out.
Audience reactions to her first two songs have been mixed. With "Look What You Made Me Do," it was obvious that Swift was going for a brand-new sound and with it, a whole new image. The lyrics of the song are darker than her previous tracks, and the music video — complete with snakes, a harem of "I heart T.S." T-shirt wearing backup dancers, and the image of her literally rising out of her own grave made fans wonder what the hell they were in for. It wasn't the Taylor fans knew.
But with Swifts's second single, "...Ready For It," she threw fans for another loop. Yes, she attempts to rap on the album, which is certainly new for her sound, but the general vibe of the song feels like the complete opposite of "Look What You Made Me Do." The lyrics and sound are peppier, not quite as threatening or dangerous. So with her third single, anything goes, really. Sure, it sounds like she's complimenting the subject of the song, but there's definitely a bit of snark over a poppy melody.
With fans now privy to three full tracks on her upcoming album, out Nov. 10, it's difficult to pinpoint what the rest of the album has in store.
In the meantime, you can bet fans are already obsessed and poring over the lyrics. Not long after midnight, #Gorgeous was already trending on Twitter.
1. This Person Found It Super Relatable
And now, they have an anthem to sing along to.
2. She Only Keeps Getting Better
Definitely "signature Taylor," but a bit more mature.
3. Fans Are Pleased
Just look at all those caps.
4. And They Zeroed In On This Epic Lyric
If there's one thing Swift fans know, it's that the singer loves her cats.
5. Some Can't Stop Listening
*Hits the replay button... again*
6. No Need To Make Any Further Weekend Plans
Come on, you know you'll be on the couch, listening to the song, and pondering those Tom Hiddleston references.
7. Somebody Grabbed A Thesaurus
And looked up ALL the adjectives to express their joy.
8. Sure, It May Sound Different
But that doesn't have to be a bad thing.
9. Again, People Appreciated The Cats
You know you're wondering what Meredith and Olivia truly think of the track — specifically, their shoutout.
10. This Astute Fan Makes A Solid Point
Seriously, does it not sound like those two songs mashed together?
11. Another Acknowledged The Artistry
Love her or hate her, you've gotta admit that she does try and surprise people.
12. Yet Some Parts Felt Familiar
At the heart of it, she still maintains her Swift style.
13. Some Found A New Hobby
This fan takes following in someone's footsteps to a whole new level.
14. Others Played Detective
Who is it? Who is it? Who is it?
15. Even Spencer Pratt Got Into It
Hey, this The Hills alum isn't ashamed to get into the Swift spirit.
16. This Person Got Too Real
That description may even apply to Swift, who's known to lurk on Tumblr and read her fans' posts.
17. Please, Someone Help This Fan Out
No need for mascara tears — go listen to it on YouTube or Spotify.
See? Fans already are obsessed. And chances are they'll have even more to talk about when the full album drops next month.