Taylor Swift's Latest Instagram Post Is Hella Cryptic & Fans Are Freaking Out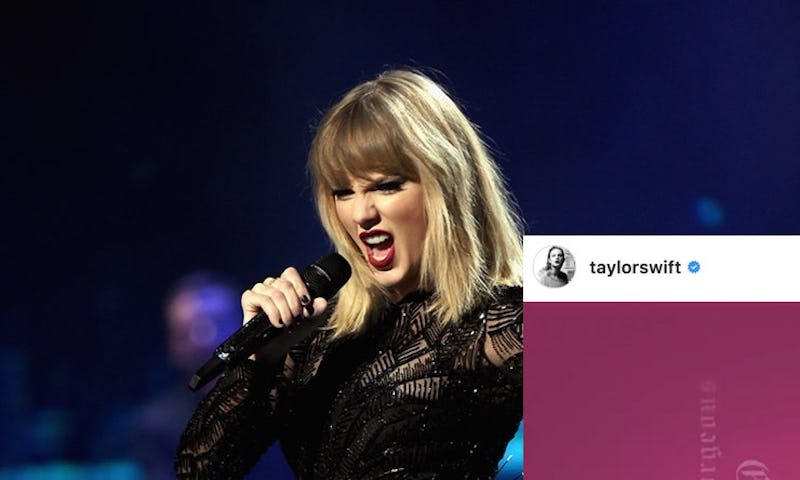 Kevin Winter/Getty Images Entertainment/Getty Images; Taylor Swift/Instagram
Leave it to Taylor Swift to continue her trend of unexpected music drops. On Thursday, Swift teased her new song "Gorgeous" in a series of Instagram posts. The track is apparently dropping at midnight EST, but there are a few clues of what to expect — namely, that there's a cameo from someone's baby on the song. An adorable little voice can be heard saying, "gorgeous," as the beat begins in the background. (Could it be Swift's godson, aka Jaime King's baby Leo, perhaps?) Plus, the song just so happens to have the same name as one of Kanye West's tracks — yes, really.
If "Gorgeous" is indeed the song title, this will mark the third track from Reputation to be released thus far. She's already dropped "Look What You Made Me Do," as well as "...Ready For It?" Swift's full album comes out Nov. 10, just a little under a month away, so if there's any time to build the hype, it's definitely now.
While the singer didn't make comments available on her latest Instagram posts, that hasn't stopped fans from flocking to Twitter to express their excitement. In other words, people are already freaking out — even though the song isn't released for nearly another 12 hours. But don't worry, that gives even more time to speculate about what the song is about, who the song is about, and any other questions that arise.
It's also worth noting that Us Weekly reported that Swift was in London filming a music video over the weekend. Could it be for this upcoming track? It wouldn't be out of Swift's element to drop a song and music video unexpectedly within the same week. Come on, this is T. Swift after all. As for the video itself, a source claimed to Us Weekly, "She's trying to keep the storyline of the video top secret. She had a multiple-location shoot so that it would be hard for people to guess."
Earlier this week, Us Weekly also reported that Swift's new album will "chronicle her feuds" across multiple songs. It's already been suspected that "Look What You Made Me Do" had references to West, Kim Kardashian, and Katy Perry, especially the music video. So it'll be interesting to see if "Gorgeous" also continues this trend.
Now, back to the track and the subsequent fan responses — they range from excited to suspicious to relieved.
1. This Person Was Freaking Out
A suitable response.
2. And So Was This Person
It's OK if you're not OK right now.
3. Cue The Tears
Some people just couldn't handle the news.
4. This Person Played Detective
*raises eyebrows* Indeed, West has a track called "Gorgeous" on My Beautiful Dark Twisted Fantasy.
5. Another Threw In A Compliment
Very flattering.
6. Ring The Alarm
Not a drill. I repeat: Not a drill.
7. This Tweet Will Make You LOL
'Tis the season for Spooky Swift.
8. She Just Keeps One-Upping Herself
She never stops surprising her fans.
9. This Person Set The Record Straight
Gotta appreciate that self-esteem. Maybe it's a song about all of us.
10. Your Reputation Playlist Just Expanded
Three new Swift songs to listen to — three.
11. Take Some Deep Breaths
That Big Bang Theory GIF never gets old.
12. This Person Let Out A Scream IRL
Nope, not OK.
13. Prepare To Push Back Your Bedtime
Sorry, but your sleep schedule may revolve around Swift's music release schedule.
14. Let The Dancing Begin
Get ready to dance to the new song, Swift style.
It's only a short wait until the track drops, but you can bet that fans will be freaking out until then. And, of course, that will only continue after it actually drops.