Taylor Swift Shares Photo Proof That Her Nude Bodysuit Isn't Actually Sexy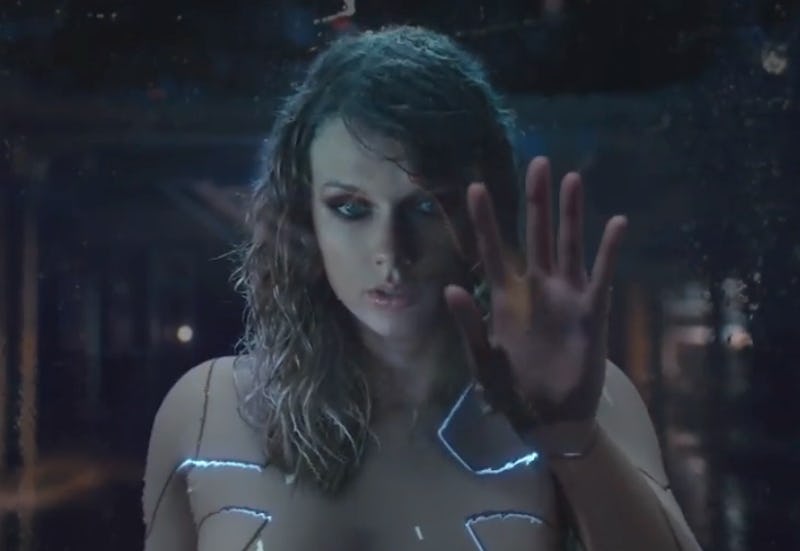 Taylor Swift VEVO/YouTube
Now that Taylor Swift's "...Ready For It?" music video is here, people can't stop talking about a particular costume she's wearing — that nude bodysuit. It's super smokin', it lights up, and it's one of the most revealing outfits she's ever worn in a music video. Well, guess what? Swift's response to her nude bodysuit's popularity shows that it isn't as sultry as it appears. On her Instagram story on Friday, the singer posted three images that show just how not-so-sexy the piece really is.
Accompanying a selfie of Swift on set of the video wearing the bodysuit, she wrote, "It truly warms my heart that ppl had so much to say about this bodysuit [crying laughing emoji]." In this particular picture, you can see the bodysuit isn't as formfitting as it appears in the music video. It also has a lot of wrinkles. Thank goodness for CGI, right?
She also shared two other full-length shots of the costume that show she most definitely isn't nude in the video and that digital technology had a lot to do with transforming her into a so-called naked robot. This also proves how much goes into making a music video. Nothing is ever as it really seems, especially when creating a major production like "...Ready For It?"
It seems that these photos on her Instagram story are her way of responding to everyone's comments — both good and bad. When Swift first teased the music video release of "...Ready For It?", there were a lot of reactions, including some thinking the visual of her in the bodysuit was her way of dissing Kanye West and addressing the "naked Swift" he had in his "Famous" music video. Many fans praised her for wearing it, because it seemed like her way of reclaiming her body and embracing who she is a woman. As one person wrote, "mood: currently crying over taylor swift owning her body and having the confidence to do a music video in a nude bodysuit."
However, with the positive comments also came the negative ones. There are some fans who didn't appreciate her going nude, or so they assumed after seeing the teaser for the video. "Even as a nude cyborg, there's nothing I find sexy about Taylor Swift," one person wrote. Another individual got real honest and tweeted, "America's sweetheart aka Taylor Swift naked is saving the world while Miley is just a slut asking for attention I hate double standards ..."
Now, after watching the music in its entirety, there are even more responses, including some hoping they can get their own bodysuit in time for Halloween. "Need the Taylor Swift bodysuit for Halloween," a fan wrote on Twitter. Someone else tweeted, "Where can I purchase @taylorswift13's bodysuit? Asking for myself." If you scroll through Twitter, it seems that the majority of Swifties are here for their favorite singer's nude bodysuit and love her boldness.
Despite what haters think about the nude bodysuit, Swift doesn't really seem to care, based on her Instagram posts. Also, by showing off what the costume really looks like in real life, this could be her way of shutting up any and all negativity. So many people jumped to the conclusion that she was actually naked, but now Swift's showed them the truth.
On the other hand, the Reputation artist's response could also be read as, "Wow, thank you to everyone who thinks I look sexy, but this is the most unsexy thing I've ever worn." It comes off like she's poking fun at herself. Whatever the case, Swift is now putting herself and the bodysuit out there for everyone to see — and judge.