Here's When You Can Download Taylor Swift's New Phone App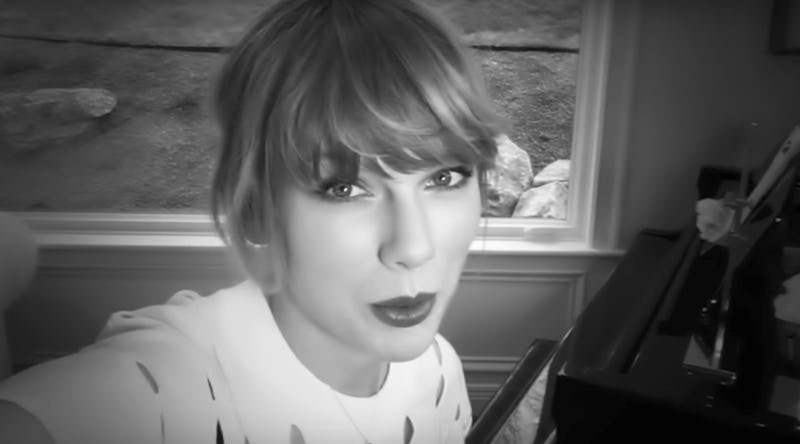 Taylor Swift on YouTube
If you'd previously felt that the current range of emojis was insufficient for expressing how hard you stan for Taylor Swift, deep breaths. Apparently, we're getting a Swift app, "The Swift Life" and it's going to be everything for those of you who need more of the "Look What You Made Me Do" singer in your phone. As for when Swift's app will be released, well. The company behind it is Glu Mobile, who, according to The Verge, were responsible for celebrity games like Katy Perry Pop!, Britney Spears: American Dream, Nicki Minaj: The Empire and Kim Kardashian: Hollywood. According to Techcrunch, Glu stated that Swift's social network would be released in "late 2017."
It's easy to understand why fans might be want to download the app at the earliest possible date. The announcement video suggests that the singer herself will interact with the app, which means that it could be a way for Swifties to reach their idol. Plus, there will be "new and exclusive photos and videos," and it looks like it's going to launch "taymojis." From the looks of the video, there'll be a social media component, with users able to comment on and like each others posts (much like on Twitter or Facebook).
There's not any more concrete information about release dates at the moment. However, we can use Glu Mobile's past celebrity releases to hazard a guess. It's tempting to draw parallels between this and the company's app releases focused on pop stars. According to Billboard, on February 4, 2015, Glu Mobile announced they would be releasing a new mobile game with Katy Perry. According to Venturebeat, the game, which follows Perry as she tries to make it as a pop star, dropped an eternity later: on December 15, 2015. As such, it seems highly unlikely that there's going to be a 10 month wait on Swift's app: after all, "late 2017" implies a two month wait at the very latest, surely.
Similarly, while Digital Spy announced on April 30, 2015 that the world was getting a Britney Spears mobile game, those who wanted to live out that Las Vegas residency for themselves had their patience tested. According to The Verge, Britney Spears: American Dream, in which players get to assume a pop star identity and record singles finally dropped over a year later, on May 18, 2016. Again, not likely when it comes to the Swift app.
Even if we run it by the same metric as a non-musician focused game, Kim Kardashian: Hollywood, the figures don't add up. Glu released a press release announcing they were partnering with Kardashian on the game on November 19, 2013. According to Gizmodo, the hotly sought after app, where you get your own Kardashian avatar, first dropped on June 25, 2014. That's still way too long to use as a useful guideline for when we'll finally get to use taymojis.
Perhaps it makes more sense to be pragmatic. Why would the company have set themselves such a small amount of time between announcing the app and estimating the release date? Probably because it's almost Christmas. According to Fast Company, "the morning of the 25th can be one of the most financially lucrative days of the year" to release an app, with the website reporting that, "In 2012 a staggering 328 million apps and games were downloaded on Christmas day, and in 2013 that number shot up another 11 percent."
App company ironSource agrees, arguing that the secret is because so many people order new smartphones for Christmas: they explain that in 2015 "smartphone vendors hit a record high, shipping 399.5M units during Christmas time, 5.7% more than Christmas previous year" and this meant, according to their estimates for 2016 "400M smartphones being unwrapped Christmas morning. 800M eyes skimming the App Store and Play Store."
So, basically, Swift's either releasing her social network on Christmas Day or the night before. It looks like this festive will pass more — ahem — swiftly than ever before.