Taylor Swift's "...Ready For It?" Music Video Is Here & Fans Are Shook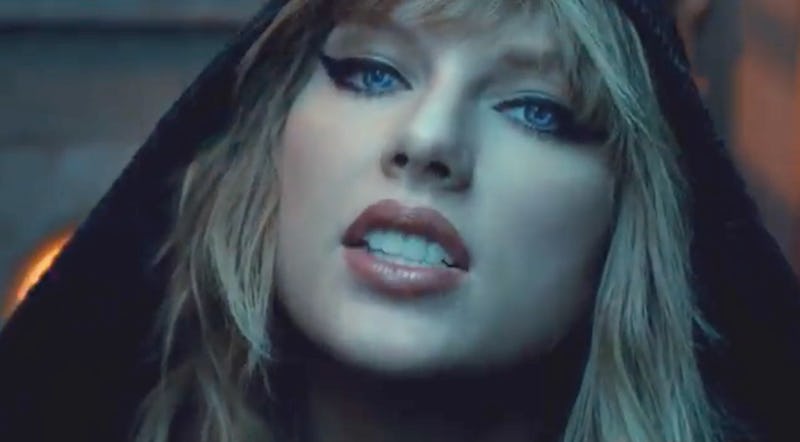 Taylor Swift on YouTube
Even prior to the release of Taylor Swift's "...Ready For It?" music video, controversy was running high after a teaser debuted on Instagram, in which the singer appeared in a nude body suit. And now that the full "...Ready For It?" music video is finally out, and it's an entire sci-fi, dystopian story reminiscent of her "Bad Blood" music video. So, naturally, much like her "Look What You Made Me Do" release, the new video seems packed full of references to the Taylor Swift mythology.
Within the narrative of the video, the naked version of the singer seems to serve a function as a doppelgänger that a hooded Swift is building — a creation which betrays her at the end of the story. This seems pretty interesting, considering Swift has received criticism in the past for her manufactured image. That image is perhaps why, when the teasers were first released, as one Twitter user @slitherswift immediately pointed out, "It's pretty clear now that Taylor being 'naked' in the Ready For It video is in reference to Kanye's Famous one," making reference to what appeared to be a naked wax figure of Swift in Kanye West's "Famous" video.
But West wasn't the only real person the 27-year-old initially appeared to be calling out with the video. As Billboard had already speculated, the opening shot of Taylor Swift's name against a stormy lightning struck sky seemed to echo the cover art for Rihanna's "This Is What You Came For," a song by Swift's ex-boyfriend Calvin Harris that she revealed after their split that she'd co-written under a pseudonym.
However, the video appears to be about creating a New Taylor Swift, the likes of which we've never seen before. We see Swift transform her doppelgänger into a soldier, ready to take on anyone and anything, bladed weapon and everything. Then, we see that doppelgänger astride a white horse (remember "White Horse?") after trying to attack Swift herself. Finally, the body double seems to gain enough strength from channeling lightning in order to break free of her bonds and take the hooded Swift down.
And, of course, Swifties are losing their minds over the new visual.
However, while it's a spectacular, special effects-filled mini movie, new might be an overstatement. Just like "Look What You Made Me Do" served up a zombified vision of Swift that reminded viewers of Michael Jackson in his iconic "Thriller" video, the heavily sci-fi inspired "...Ready For It?" video has shades of both Ghost in the Shell and Blade Runner.
From the teasers, Gossip Cop noted the similarity between Swift's bodysuit and the one worn by Scarlett Johansson in Ghost in the Shell. But it was hard to understand why Swift would be pushing that parallel. After all, it's kind of an unfortunate one, given the criticism of whitewashing the film received for casting Johansson in the lead role (one which was played by a Japanese actor in the original version of the film). Similarly, Swift has also been criticized for racial insensitivity in the past, especially following her tone-deaf response ("If I win, please come up with me!") to Nicki Minaj's complaints about racism in the music industry in 2015 after Minaj was excluded from the Video of the Year category for the MTV Video Music Awards. It was so tone-deaf that The Guardian wrote an article at the time titled "The Nicki Minaj Debate Is Bigger Than Taylor Swift's Ego" — so surely that would be one aspect of her past that she'd rather play down?
However, as Mashable observed at the time, perhaps the "...Ready For It?" teaser was channeling Blade Runner, since "the buzz around the Blade Runner 2049 release seems like a good bandwagon for Swift to jump on." But no matter who or what you think inspired the futuristic video, it's a great slice of sci-fi in a year that seems to be slavishly devoted to the genre. Swift's video may not be the most original visual you've seen this year, but it's definitely the most on trend. And, as always, this latest offering from Reputation has got people talking one way or another.