What's Not In Taylor Swift's New Music Video Says Something Huge About the "New Taylor"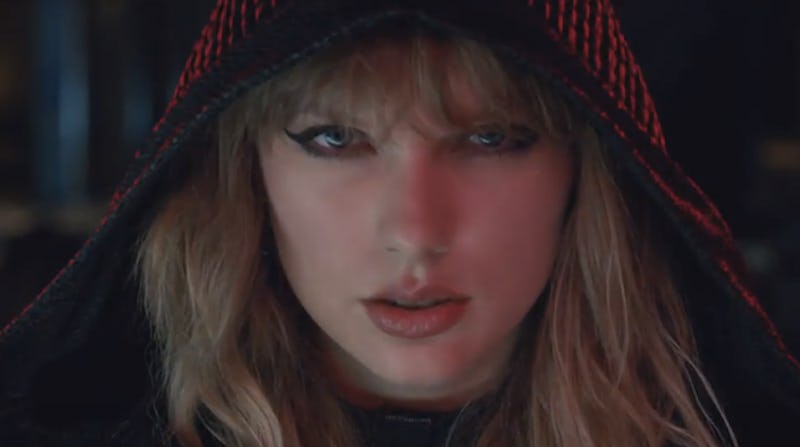 Taylor Swift VEVO/YouTube
The opening line of "...Ready For It?" zeros in on a dude: "Knew he was a killer first time that I saw him" and from there on in, it's focused on a male romantic lead that Taylor Swift addresses. As such, the fact that Swift's "Ready For It" video doesn't have a boyfriend equivalent or male character may be giving you a "Huh?" moment. After all, the two lead characters in the video are two versions of the singer herself. We get Swift as a potentially evil, hooded character and a second, nude-looking Swift trapped in a glass box. Arguably, this absence suggests that the video is telling us something about how the singer wants us to perceive the New Taylor — that she wants us to believe that in the wake of the media critique, she's been focusing on finding strength from within rather than depending on a man for comfort.
Of course, this isn't necessarily suggested by the lyrics. The lyrics follow what feels like the 27-year-old's own distinct method of songwriting, with her dropping clues that the track is about the man rumored to be her current beau, Joe Alwyn, in the same way she once seemed to do about rumored old flame Harry Styles on "Style" and rumored former lover Jake Gyllenhaal on "We Are Never Ever Getting Back Together." There's the first line, which as Elle has speculated, possibly references the photos of Swift leaving a screening of Billy Lynn's Long Halftime Walk, in which Alwyn plays a hired killer — a soldier, Private Billy Lynn, as well as countless other references.
But given that this is only the second video from her forthcoming album, clearly Swift wants her public to know that the reinvention is sticking. The New Taylor isn't going away. So while the video for "Style" featured a boyfriend figure (who bore an uncanny resemblance to the One Direction star) and the video for "We Are Never Ever Getting Back Together" got a hipster Jake Gyllenhaal stand-in, in this video, the male figure being addressed is conspicuously absent.
It seems unlikely this is just coincidence. As Bustle writer Nicole Pomarico has suggested, the battle between the two Taylors could well be about Swift's depiction in the media. She points to the Taylor trapped in the glass box as the real life version of the popstar — it's a metaphor for the star having her ever move scrutinized. Meanwhile, the evil Taylor could be seen as the media-created image of her as a master manipulator. As Tumblr user thisfightisworthwhile has observed, the real Taylor tries to escape from her glass box with any number of different tricks — she uses "armor, weapons, a kick ass mother freakin horse." But it's only when she discovers "her own power that she was able to defeat herself" with nothing but her own voice.
It's a compelling theory. After Kim Kardashian published a video of Kanye West and Swift's conversation in which she seemed to give permission for the rapper to namecheck her in West's song "Famous," the singer went quiet following just one Instagram post (which has since been deleted, following Swift's erasure of all of her pre-Reputation photos), a screenshot of a text which Buzzfeed reports ended "I would very much like to be excluded from this narrative, one that I have never asked to be a part of, since 2009." This was posted on July 18. Following the post, the star then went so quiet in terms of both social media and public events that E! published an article asking "Where in the World is Taylor Swift?" in March 2017.
There was a lot of bad press about Swift during this period — on the day of the Snapchat video, Cosmopolitan published a piece which felt typical of the tone at the time titled "Taylor Swift Needs to Stop Playing the Victim." And time passing didn't seem to help — in January 2017, BuzzFeed published a meticulously reported, detailed critique of the star titled "How Taylor Swift Played The Victim For A Decade And Made Her Entire Career."
If the video is as autobiographical as it seems, then it implies that during Swift's quiet months, her only recourse was to stop looking to other people for solace and to find the strength within to resist these critiques — as such, a boyfriend figure in the video would make little to no sense. Sure, The Daily Mail speculated in May 2017 that she had probably been dating Alwyn for "several months" already, implying she may have been with the actor during this time frame, but this doesn't mean he's the reason she got through this difficult period. The musician clearly wants viewers to believe that she's stronger now for having relied on herself — unlike the old Taylor, whose happiness seemed much more focused on who she was dating, if tracks like "Begin Again" from Red and "Out of the Woods" on 1989 are to be believed.
So look forward to a bold, boyfriend-free New Taylor in future videos from Reputation. If her new image established in "Look What You Made Me Do" And "...Ready For It?" is setting a pattern for what's to follow, this could be the most independent version we've ever seen of the star.