Fans Are Freaking Out Over Taylor Swift's Secret Listening Party For Her New Album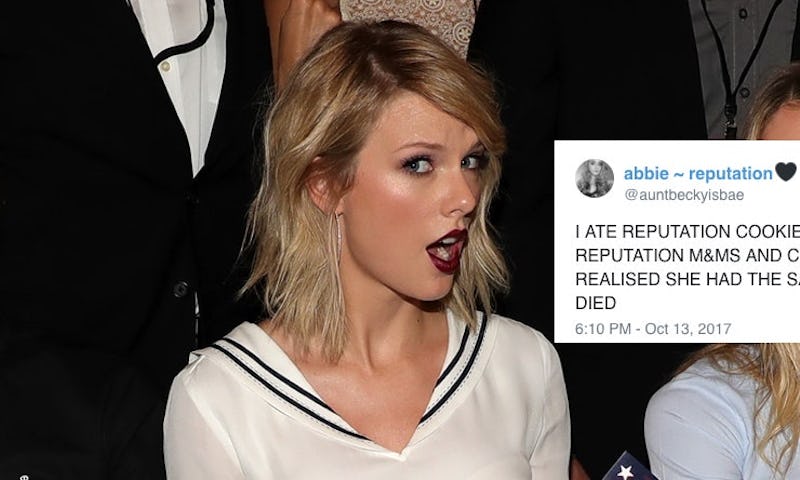 Neilson Barnard/Getty Images Entertainment/Getty Images; auntbeckyisbae/Twitter
The old Taylor might be dead, but the new Taylor is just as generous with providing sneak peeks of her music to fans. On Friday, Taylor Swift had a secret listening party for Reputation in London and invited 100 seemingly hand-picked guests to join her. Obviously, those who didn't get an invite are understandably upset, but there are still plenty of details about the night and the sound of the album that can help you feel as though you were there.
One lucky fan, who claimed to be in attendance at Swift's secret listening party, shared on Twitter that the seven-hour session "consisted of listening to Taylor's unreleased album, eating chicken tenders while talking to her dad about her childhood and getting to give Taylor the biggest hug." The same user also revealed that they'd "spent almost a week and a half keeping it a secret," after receiving an invitation over the phone. Let's be honest, that's a monumental feat in and of itself.
Though the fans in attendance can't reveal too much information regarding the album, some exciting tidbits did get shared. As E! News pointed out, one Tumblr user, for instance, described the sound of Reputation as being, "sexy, shady, a nighttime album, more emotionally complex than 1989 and better than Red." Meanwhile a Twitter user shared that one of the songs on the album was so emotional that it made everyone cry, and wrote, "LITERALLY EVERYONE WAS SOBBING."
In addition to eating chicken tenders, hanging out with Swift and her family, and hearing Reputation before anyone else in the world, fans were also treated to goodie bags of Reputation merchandise. If you're a big Swiftie yourself, it will likely be the final crushing blow in an already bad case of FOMO. Those of us who didn't receive a lucrative golden ticket to Swift's music factory (that's right, T-Swizzle is Willy Wonka in this metaphor) are kind of just left languishing outside of it all.
We're basically left pressing our faces up to the window of Swift's inner circle, straining to catch any secret Reputation melodies slipping out from within it, and staring at the merch page of her website with envy. Suffice to say, none of us are alone in feeling left out. Twitter is currently full of people who also didn't receive an invite, like...
This Person Who Perfectly Illustrated All Of Our Current Feels In A Single GIF
This is all of us on social media right now. Pressing our hands up to the glass, listening to "Look What You Made Me Do" on repeat, and trying to pretend that we were there.
This One Who Took The Lack Of An Invite As A Personal Betrayal
Does it hurt more that this happened on a date notable for sharing Swift's favorite number? Yes. Yes it does. 13 was our thing.
Someone Just Said It Exactly How It Is
Blunt but fair. Incidentally, Swift's sure to do a U.S. listening party for the rest of us sometime, right? That's when we'll finally get our invite?
This Person Summed Up Exactly How That Lack Of An Invite Felt
Obviously, this is a joke. Obviously. However, receiving this kind of a message would at least bring some closure over the whole thing.
Don't Worry, This Fan Is Totally Free To Hang Whenever Swift Is Ready
"...except for Wednesday evenings when I go grocery shopping, and weekday mornings when I have to walk the dog. But aside from that, I'm free to party. Hit me up, queen..."
Somebody Is Bitter AF & Not Afraid To Hide It
Let it out, ladies and gentlemen. The truth is, some of us are simply not meant to ever attend one of these exclusive sessions. And that's cool. We can just rant on Twitter about it and stuff.
This Person Who Figured Out How To Enjoy A "Secret Listening Party" Of Their Own
Technically telling Twitter about it makes it less of a secret, but regardless, it still counts. Gonna hide downstairs and listen to 1989 with my cat now. That's how it's done, right?
Then, There Was Those Fans Determined To Pour Salt In The Wound
Customized Reputation M&Ms for crying out loud. For the record, I would also love to feel such excitement about vinegar at least once in this life, but oh well...
There Were Those Who Were Really Determined To Show Off
Come on, guys. These brags are getting silly.
And There Were People Like This Who Weren't Afraid To Let Their Sadness Out
Totally not crying right now. Everything's great.
So, some of us didn't get to enjoy a whole bunch of customized snack foods or enjoy getting to hear Reputation ahead of its release. But since we'll all be able to listen to the album in just under a month anyway, we shouldn't feel too sad about the whole thing. Secret listening party on Nov. 10, guys? Bring your cats and customized M&M's, OK? Great. We can totally have our own fun.