This 106-Page Book About Immigrant Children Should Be Mandatory Reading For Every American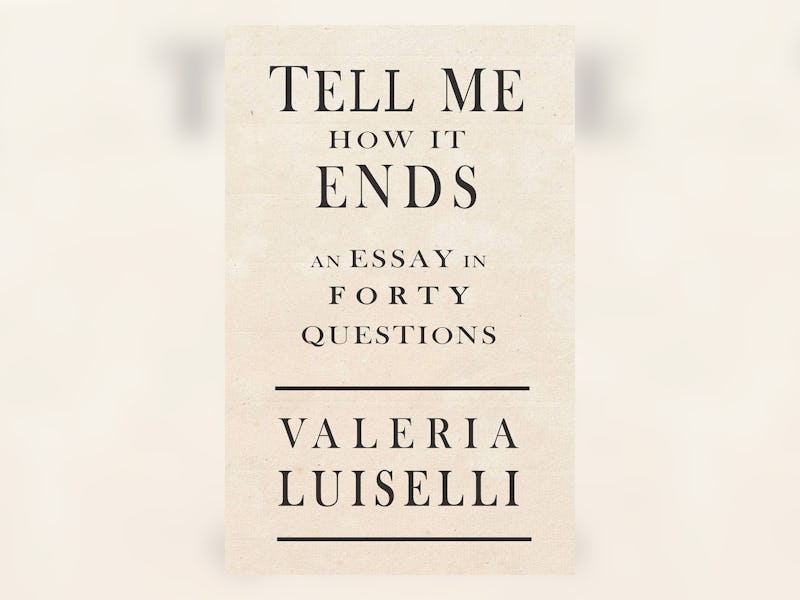 The national spotlight has turned on the sickening reality that an estimated 65 children are being separated each day from their parents under the Trump administration's family separation policy. (Previous estimates put the number at an estimated 2,000 children.) Children are being held in detention centers which reporters and politicians have been granted limited access to visit. New Yorker reports that the U.S. government has no plans for reuniting the children with their families. Although Trump signed an executive order on Wednesday ending the "family separation policy," he has declared that he is maintaining the "zero tolerance policy," indicating that families and individuals entering the country will continue to be detained and prosecuted.
This particular "zero tolerance" policy is a product of the Trump administration, but the unfortunate truth is that children have shouldered the burden of the United States's immigration system for a long time. But if there one book you read to better understand the grave moral implications of the U.S.'s immigration policy, let it be Tell Me How It Ends: An Essay in Forty Questions by Valeria Luiselli.
In Tell Me How It Ends, Luiselli recounts her time working as a volunteer interpreter with unaccompanied children detained by the U.S. government. (To be clear, the children of whom she writes crossed the border by themselves, unlike the children being detained by the Trump administration, many of whom crossed with family members but were separated from them by the U.S. government.) Luiselli asked the children a series of 40 questions, then translated their answers into English to be used in their court cases.
Tell Me How It Ends by Valeria Luiselli, $11.01, Amazon
The questionnaire contained forty questions that may seem simple at first glance: "Why did you come to the United States?" and "Who would take care of you if you were to return to your home country?" But, as becomes quickly apparent, the answers to these questions are enormously complicated and heartbreaking. Moreover, the questions aren't exactly asking what needs to be known. Luiselli writes:
"Questions nine, ten and eleven on the intake questionnaire are: 'How do you like where you're living now?'; 'Are you happy here?'; 'Do you feel safe?' It's hard to imagine that these children, considered a hindrance to institutions and unwanted intruders by a large part of the society to which they've just arrived, soon to face a judge and defend themselves against a removal order, indeed "like where they are living."
And of course, many of the children are not capable of answering the questions they're being asked. Luiselli recalls trying to break the more difficult questions down into smaller and more comprehensible parts for the children — all the while trying to get the kids to provide answers that will help them get a lawyer. Luiselli writes:
"If their answers didn't align with what the law considers reason enough for the right to protection, the only possible ending to their story was going to be a deportation order. It was going to be very hard, with the answers I was getting, to even find them a lawyer willing to take their case. The girls were so young, and even if they had a story that secured legal intervention in their favor, they didn't know the words necessary to tell it. For children of that age, telling a story—in a second language, translated to a third—a round and convincing story that successfully inserts them into legal proceedings working up to their defense, is practically impossible."
The majority of the children Luiselli spoke with fled life-threatening situations in Central America and traveled thousands of miles in extraordinarily dangerous conditions. When they finally arrived to the United States, many of them intentionally surrendered to Border Control agent, because they understood that the best case scenario was to be detained and sent to live with sponsors in the United States. However, even those "lucky" enough to be apprehended by Border Control were placed in detention centers known as "hieleras" (or "iceboxes"). Luiselli recalls one particularly devastating interview in which she inquired about the conditions of the hieleras:
"They only give out frozen sandwiches twice a day there, another teenager I once screened told me.
That's all you ate? I asked
No, not me.
What do you mean, not you?
I didn't eat those things.
Why not?
Because they give me belly-sadness."
In one short book, Luiselli shares many heartbreaking stories she gathered during her interviews. She recalls a boy, Manu, who showed her a police report he filed against the gangs that threatened him in Honduras. The police ignored his requests, and the gang attacked Manu and his friend, who was shot and killed. Before Manu could be killed as well, his aunt in New York arranged for him to migrate to the United States. But soon after his arrival, he discovered that his new high school was ruled by the same gangs that harassed him in Honduras. He is just one of many who left to escape deadly circumstances in his home country.
"It is not even the American Dream that they pursue," Luiselli writes, "but rather the more modest aspiration to wake up from the nightmare into which they were born."
Luiselli is herself an immigrant who navigated the American system legally. Her experience, too, was intentionally dehumanizing: She writes of her shock at the "slightly offensive parlance of U.S. immigration law," including use of the word "alien" to describe anyone from outside the United States. Her experiences are paired with those of the children she interviewed to paint a portrait of a system that is ultimately broken on every level.
Tell Me How It Ends is short — just 106 pages. You can easily read it in one day. Yet, it might just be the most important book you read this year. Reversing Trump's family separation policy is the first step, but there is much more work to be done.