Texas Abortion Clinics Just Moved To Build On Their Last Supreme Court Win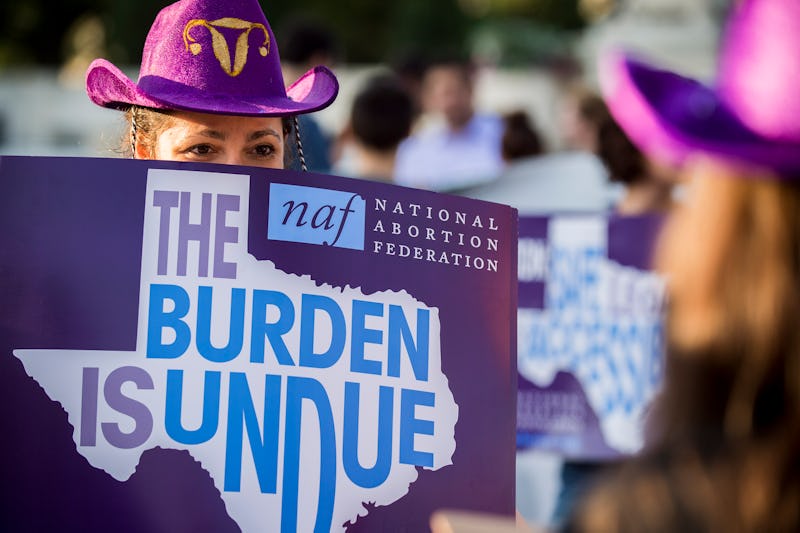 Pete Marovich/Getty Images News/Getty Images
Abortion rights groups are trying to overhaul Texas' most restrictive abortion laws — yes, all of them. Led by Whole Women's Health, a group of nonprofits and Texas abortion clinics filed a comprehensive lawsuit Thursday against the state, challenging more than a dozen laws that place limits on women's access to abortion.
The suit comes nearly two years after the Supreme Court ruled in favor of the organization in Whole Woman's Health v. Hellerstedt, widely considered the most important abortion rights ruling in a decade. More than half of the abortion clinics in the state had been forced to close when lawmakers started pushing for more restrictive abortion laws, many of which are being challenged in the new lawsuit. The Whole Woman's Health decision struck down two Texas abortion provisions that ultimately led to the reopening of some abortion clinics.
The new lawsuit hopes to tackle multiple restrictive abortion laws at once, using that Supreme Court decision from two years ago as the new standard.
"It's never been done before because we never had a win before like the one we had two years ago," said Amy Hagstrom Miller, founder and CEO of Whole Woman's Health, in a statement. "We were able to ... use it to take a look historically at all of the laws that have been on the books for some time that cannot stand now."
The suit specifically targets restrictions including mandatory waiting periods for women, a parental notification law, clinic licensing laws, and more than 20 others, according to the Texas Observer. The suit argues that these limits pose "medically unnecessary burdens on patients, require doctors to lie to their patients and have led to clinics being shut down."
Miller's "big fix" is unique, considering previous legal challenges have focused on a single law or restriction. Whole Woman's Health teamed up with the Lawyering Project, which is representing the plaintiffs in the suit, to comb through Texas abortion laws and determine which ones to challenge. Despite this strategy, a judge could decide to split up the case into separate trials based on specific categories of restrictions.
Knowing Texas, the state is expected to fight the challenges hard. In a special legislative session just last summer, lawmakers in the state passed a ban on a routine second-trimester abortion, which was ultimately struck down by the Supreme Court. It is unclear how much time the new lawsuit will spend in lower courts before potentially making it to the Supreme Court bench, but the plaintiffs hope to present the case to the high court as soon as possible. They want to benefit from having the same five judges who decided Whole Woman's Health in their favor weigh in on the new challenge, according to Politico.
The lawsuit marks a renewed effort to include voices from throughout the state of Texas in the abortion rights movement. "For years, Texas politicians have done everything in their power to push abortion out of reach for Texans," Hagstrom Miller said. "Today, we join communities and advocates across the state to send the message that we have had enough."
Even though abortion clinic closures affected the entire state, with a 70 percent overall drop in abortions from 2014 until theWhole Woman's Health decision, studies show that women in counties with a high percentage of non-white and low income residents were disproportionately affected.
The new lawsuit comes at a time when the Trump administration and conservative states are moving to place even more limits on abortion. Federal courts are already examining restrictions to early abortion bans in states like Missouri and Iowa. If this mass-overhaul of laws in Texas is ultimately successful, other states may try to adopt this legal strategy to fight more restrictive laws in the future.