Texas' Anti-LGBTQ Bill May Hurt Children The Most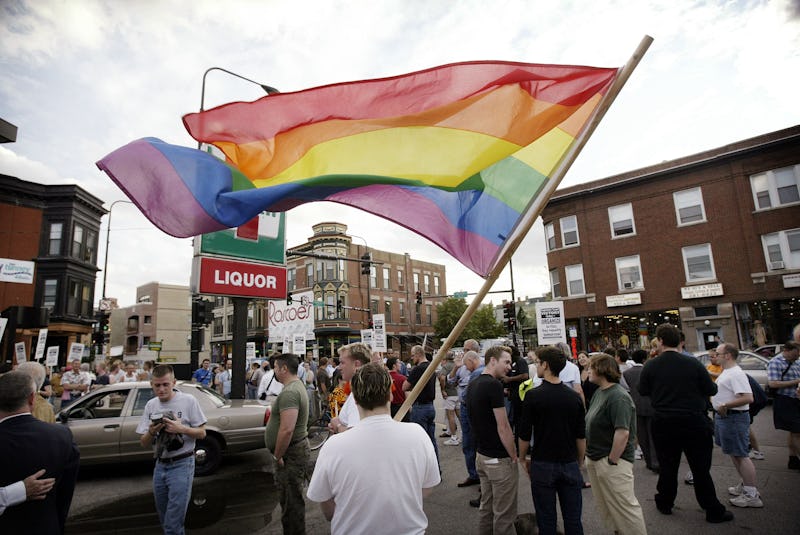 Scott Olson/Getty Images News/Getty Images
Same-sex marriage may be the law of the land in America, but the fight for equal rights for the LGBTQ community is far from over. On Monday, the Texas Senate passed House Bill 3859, a bill that would permit adoption and foster care agencies to discriminate based on "sincerely held religious beliefs." More specifically, HB 3859 would prevent the state from taking any "adverse action" against an organization that, among other things, denies service to potential clients based on religious beliefs.
According to the Texas Tribune, the bill's sponsor, Sen. Charles Perry, said that the bill is "not meant to discriminate". The text of the bill includes explicit prohibitions against discrimination on the basis of race, ethnicity, or national origin, but not sexual orientation or religion.
"This bill is part of a systematic effort to roll back the rights of LGBTQ Texans, and is emblematic of the type of discrimination that legislatures across the country have undertaken since Obergefell," Nick Morrow, Press Secretary, Southern States at the Human Rights Campaign, tells Bustle, referencing Obergefell v. Hodges, the landmark Supreme Court case that said marriage was a fundamental right for all Americans.
The legislatures of Alabama and Oklahoma have also considered related similar legislation, and South Dakota's governor recently signed a similar bill into law.
Libby Skarin, Policy Director at ACLU of South Dakota, tells Bustle, that the South Dakota legislation "put the interests of agencies ahead of the children they care for and has opened South Dakota law to discrimination." She sees regional similarities adding, "that's exactly what Texas' proposal will do if it becomes law. This bill's appearance in Texas confirms what we suspected: that these extremist bills are being shopped around the country by those who do not have local interests in mind."
LGBTQ Texans aren't the only ones who have something to lose if this bill becomes law. Also at risk are the 12,000 children in the Texas foster care system who are in need of loving homes, and according to UCLA's Williams Institute, same-sex couples are likelier to foster and adopt children than their heterosexual counterparts.
"Same-sex couples parent just as well as anyone else. Allowing adoption agencies to turn them away is unnecessary and cruel — to them, and to kids who need permanent families," Laura Durso, VP of LGBT Research & Communications at the Center for American Progress, tells Bustle.
This may mean that unmarried people, interfaith couples, or people who have previously been divorced — anything that could be determined to conflict with someone's religious beliefs — may be denied service at a child welfare agency, too.
Another issue worrying legal experts is the bill's vague language. Durso tells Bustle that the definition of "child welfare agency" in HB 3859 is "broad enough that it might, as written, impact a range of programs beyond foster care and adoption, including counseling services and shelters for young people."
It does not mention LGBTQ or homosexual people explicitly. However, the bill does prevent Texas from taking "adverse action" against a child welfare organization that "has declined or will decline to provide, facilitate, or refer a person for child welfare services that conflict with, or under circumstances that conflict with, the provider 's sincerely held religious beliefs."
This may mean that unmarried people, interfaith couples, or people who have previously been divorced — anything that could be determined to conflict with someone's religious beliefs — may be denied service at a child welfare agency, too.
"There's no denying that religious agencies in Texas will take advantage of the law, too," Durso says. "For example, one agency in Dallas explicitly states that 'applicants must be heterosexual couples or single adults.' Another will only consider married couples who are Christian and attend church weekly, meaning Jewish, Muslim, or atheist prospective parents would be turned away."
However, the Texas bill is not yet law, and Skarin tells Bustle she hopes that it never becomes one"Instead of following South Dakota's bad example, I hope [Texas'] Gov. Abbott puts kids and families first and vetoes this hurtful piece of legislation."
However, Abbott's record on LGBTQ rights is dicey at best. When the Supreme Court ruled in favor of nationwide same-sex marriage, Abbott released a statement vowing to "continue to defend the religious liberties of all Texans—including those whose conscience dictates that marriage is only the union of one man and one woman."
"Unfortunately," Morrow says, "anti-LGBTQ lawmakers seem focused on discriminating against LGBTQ people across the country instead of focusing on the best interests of children in need."