A Judge Just Ruled On Whether Texas' Fetal Burial Law Can Stand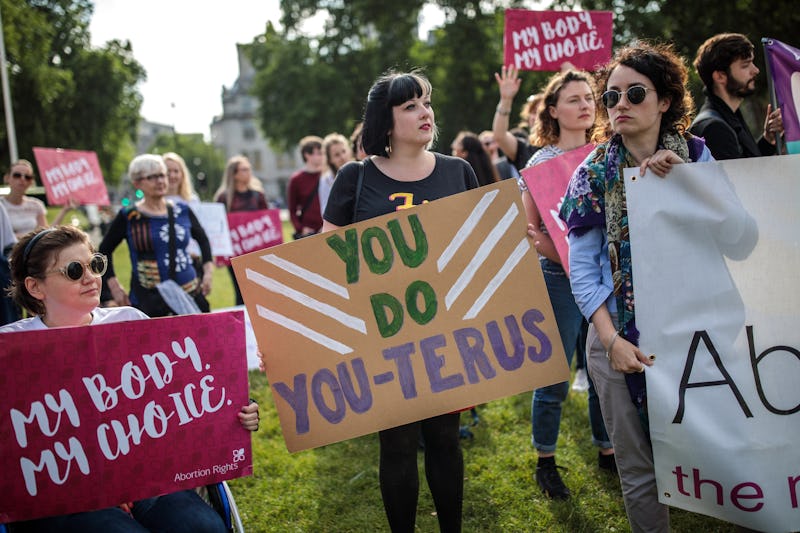 Jack Taylor/Getty Images News/Getty Images
On Wednesday, after a highly-publicized summer trial, a Texas judge permanently banned requiring fetal burial, arguing that the law violated a woman's right to have a legal abortion. The decision permanently extends a temporary injunction against the requirement, which the same judge put into place back in January.
"The implementation of this law, as I have pointed out, would cause and, if allowed to go into effect, would be a violation of a woman's right to obtain a legal abortion under the law as it stands today," said U.S. District Judge David Alan Ezra, according to The Texas Tribune.
Throughout his decision, Ezra did not mince words. He outlined why he believed the law could be devastating, not just for women, but for the Texas health care system.
"The evidence in this case overwhelmingly demonstrated that if the challenged laws were to go into effect now, they would likely cause a near catastrophic failure of the health care system designed to serve women of childbearing age within the State of Texas," he said.
The legislation, known as Senate Bill 8, or SB 8, was scheduled to go into effect on Feb. 1. However, Ezra implemented a temporary injunction after the Center for Reproductive Rights and Whole Woman's Health sued the state earlier this year.
Proponents of the legislation claimed that requiring either burial or cremation would preserve the dignity of fetuses, and would prevent them from being sent to sanitation landfills and sewers, the Houston Chronicle reported earlier this summer. However, those who fought against the legislation argued that the rule could discourage women who want abortions from seeking them, and that it could also oppose a woman's spiritual religious beliefs, particularly concerning funereal procedures.
Under the law, fetal burial would have been required regardless of whether the fetal remains resulted from an abortion, an ectopic pregnancy, stillbirth, or miscarriage, and without regard to the patient's religious beliefs. Such a requirement could have potentially placed patients in extremely uncomfortable positions, or else deterred them from seeking abortions or medical care at all, opponents argued.
"Today's ruling is disappointing, but I remain confident the courts will ultimately uphold the Texas law, which honors the dignity of the unborn and prevents fetal remains from being treated as medical waste," Texas Attorney General Paxton said in a press release.
The organizations behind the lawsuit, however, were pleased with Wednesday's decision.
"Today's ruling is a victory for all Texan women and their right to access safe, legal abortion with dignity," said Amy Hagstrom Miller, founder and president of Whole Woman's Health and Whole Woman's Health Alliance, said in a statement. "Make no mistake, these restrictions were designed to shame and stigmatize patients and health care providers. This decision reaffirms that Texan women are fully capable of making their own personal medical decisions about their families, futures, and reproductive health care."
Though attorney general's office said in a statement that Paxton's office would continue "fighting to honor the dignity of the unborn" in light of Wednesday's ruling, it's not currently clear what that fight will look like. For now, however, abortion rights groups have won, and women in Texas are free to choose how they would like to dispose of fetal remains, on their own terms.