If You Have Plantar Fasciitis, These Work-Appropriate Shoes Will Change Your Day To Day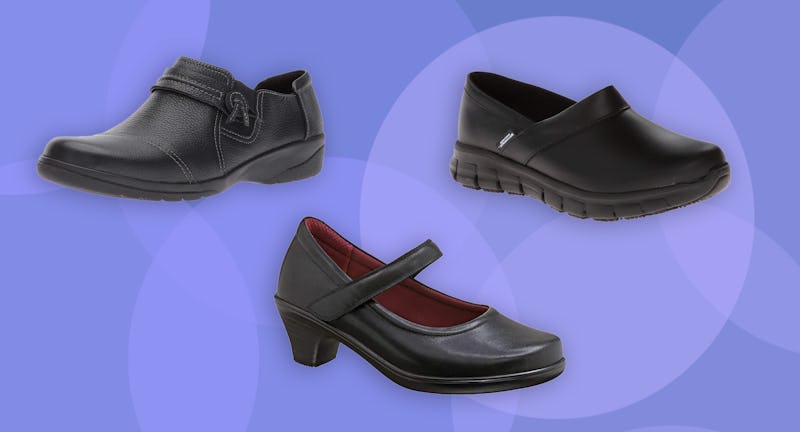 Amazon/Bustle
When you have plantar fasciitis, working on your feet for a few hours or more each day can be uncomfortable. Fortunately, by wearing one of the best work shoes for plantar fasciitis, you can minimize pain as much as possible during your work hours. According to Michigan-based podiatrist Dr. Anthony Weinert, there are several key features to look for in a pair of potential work shoes for plantar fasciitis:
Dr. Weinert tells Bustle, look for "one that has a good arch support to help support the medial column of the foot and prevent the stretching of the plantar fascia upon ambulation. I would also get a shoe with either gel or memory foam to help provide good shock absorption to the heel and foot."
If you prefer or are required to wear heels to work, then it's important to choose a pair with a low height and a wedge shape or a thicker heel, says Dr. Weinert, since this will provide the foot with more stability and put less strain on the plantar fascia. "In addition, I would wear a heel shoe that has a nice contoured arch and foot bed for extra stability," he adds.
For more details on the best work shoes for plantar fasciitis, see the top picks below.