5 Expensive-Looking Cubic Zirconia Rings That Are Secretly Cheap AF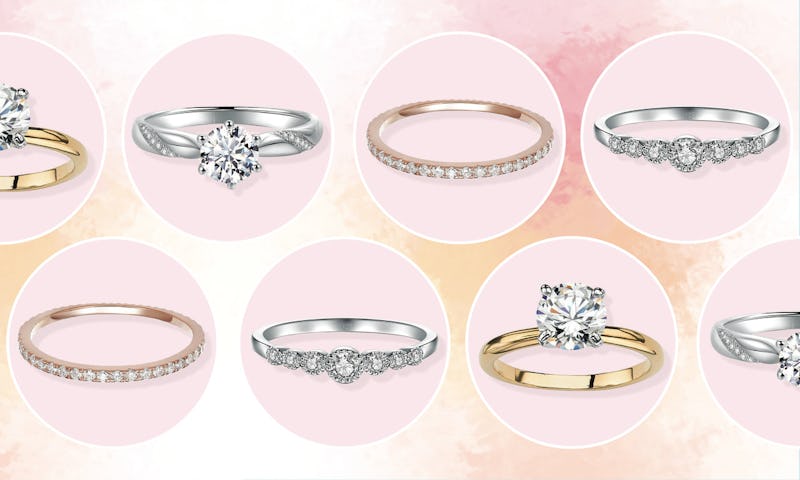 Amazon / Bustle
If you want all the sparkle of a diamond at a fraction of the cost, look no further than the best cubic zirconia rings. Whether you're on the hunt for an engagement ring, a cheaper stand-in to wear when you don't want to risk losing expensive jewelry, or just a sparkly ring to punch up your everyday look, there are plenty of eye-catching cubic zirconia options to consider.
Cubic zirconia often gets compared to diamonds, and for good reason — sparkly cubic zirconia stones can appear quite similar to diamonds. But cubic zirconia is created in a lab rather than found in the natural world, which makes it practically flawless. And despite its glamorous look, cubic zirconia is significantly less expensive to produce than diamonds, which is a huge bonus for shoppers; since it's cheaper for manufacturers to make, it's also cheaper to buy.
There are many cuts, settings, and bands (aka shanks) to consider when shopping for a cubic zirconia ring, and choosing between them is truly just a matter of personal preference. The bands of cubic zirconia rings are typically made of sterling silver or brass with gold, platinum, or rhodium plating that should prevent the oxidation and tarnishing of the underlying metal and extend the overall life of the ring. Rings come in a number of sizes, so make sure you know your size before you place an order.
There are tons of great cubic zirconia rings to be had on Amazon, and I've compiled all the best ones right here. (And if you want to add even more sparkle to your life, check out this list of beautiful cubic zirconia earrings.)