This Lightweight Luggage Could Save You Tons Of Money In Baggage Fees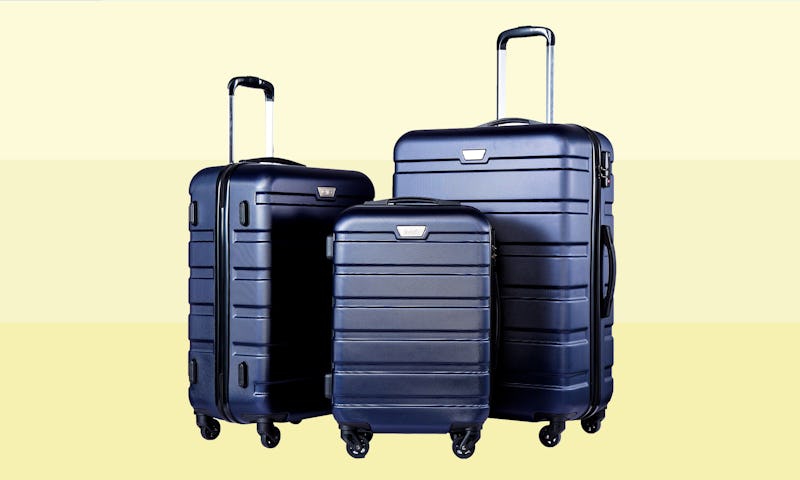 Amazon / Bustle
When you're traveling, the last thing you want is more weight to lug around. That's why having the best lightweight luggage will make your trip easier and more carefree. But what should you look for?
Well, aside from weight, which is obvious, you want to first look at durability. It's often a challenge for manufacturers to make suitcases that are both lightweight and well-made, so look carefully at the materials and construction. Typically, materials that begin with "poly" will be pretty sturdy (for example, polypropylene, polyurethane, and polycarbonate). Also, look for handles and other components that are made from strong aluminum material.
After that, think about the wheels. There's nothing more annoying than trying to roll through the airport in a hurry when your wheels refuse to turn. Consider opting for a suitcase with spinner wheels, which rotate a full 360 degrees. Though, if you don't want to sacrifice packable space for wheels, then look for a suitcase with roller-style wheels that reviewers say operate smoothly and don't catch.
Lastly, consider bonus features like pockets, zippers, mesh sleeves, and elastic straps. If you're traveling with expensive belongings, you may also want to consider a built-in TSA security lock that will help prevent theft. Or, if you'll be doing a lot of walking, perhaps get one with straps that convert it into a backpack.
Given all of these considerations, I've made a list of the best lightweight luggage below. Take a look to find your next travel companion.