These Multi-Tasking Moisturizers Have SPF — And Won't Irritate Acne-Prone Skin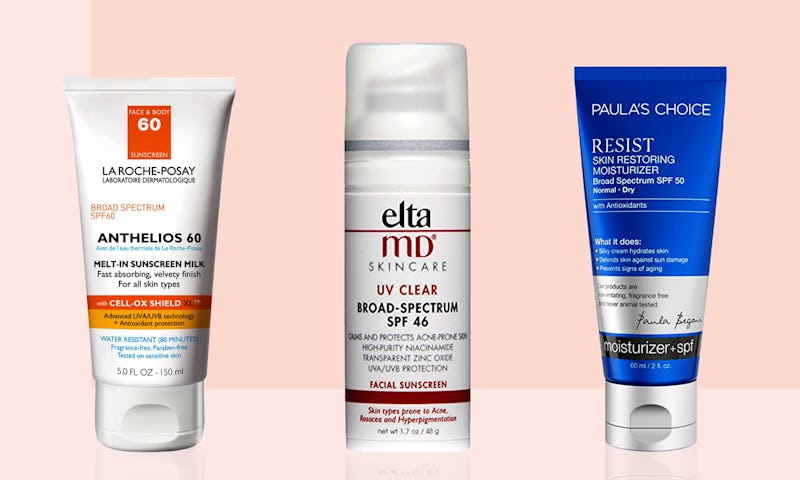 Amazon/Bustle
When you have acne-prone skin, the last thing you probably want to do is layer on any skin care products that could potentially trigger a breakout. And unfortunately, too many sunscreens fall into that category; why do they have to be so darn greasy? Plus, when you're expected to wear one on top of a moisturizer? That's just asking for trouble. Luckily, many of the best SPF moisturizers for acne — which were formulated with gentle, lightweight ingredients to avoid irritating pimple-prone skin — are only a click away.
While you might think abstaining from using any and all skin care products is the best way to avoid breaking out, improperly protecting your skin from the sun — and neglecting to keep it hydrated — can actually make things much worse. The sun's harmful UV rays can exacerbate acne scarring and inflammation, while skipping out on moisturizer can trick your sebaceous glands into thinking that they need to produce more oil to compensate for the lack of moisture.
Since excess oil and clogged pores clearly aren't ideal, it's time to streamline two of the most essential steps of your skin care routine by discovering a two-in-one product that works for you. When searching for an SPF moisturizer that won't cause breakouts, it's important to look for oil-free, non-comedogenic formulas; bonus points for ingredients (like green tea) that help reduce inflammation.
Ahead, you'll find five of the best moisturizers with SPF for every acne-prone skin type, from dry and oily to sensitive and combination. They're all gentle, non-irritating, and most importantly, highly-rated by dermatologists and acne-prone customers alike.