From Riding Boots To Rain Boots, These Are The Best Pairs For Wide Calves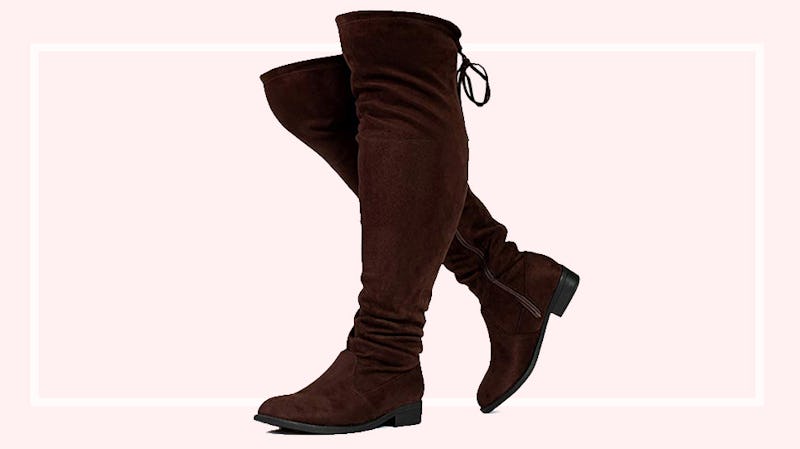 Bustle / Amazon
As if finding the right shoes, in the right size, for the right price isn't hard enough, when you're looking for a tall boot, finding the right calf size can make shopping even harder. Luckily, the best wide-calf boots. come in a variety of styles — from riding boots to rain boots. Whatever your wardrobe looks like, there's a pair below to complement your favorite outfits, without constricting your calves.
First, Take Your Measurements
The most important feature to look out for when shopping for wide-calf boots is a boot that measures at least 15.5 inches in circumference, since this generally qualifies a boot as 'wide calf'. To make sure you're getting the right fit, measure your calves (both of them since they can vary in size slightly) with a tape measure.
You should also consider your height, since most wide-calf boots are made for people of average height (at least 5 feet, 5 inches). If you're petite, you may want to add one to two inches to your calf width measurement, since the widest part of your calf will be lower inside the boot than it would be the average person.
Extra Features
Elastic goring is a great feature for anyone wearing tall boots, but it's particularly nice for those with larger calf sizes, since the stretchy fabric makes the boot easier to slip on and off. For those who are also shopping with wide feet in mind, consider boots with roomy toe boxes.
If you want the most stable boots, look for anti-slip rubber outsoles with some sort of rivets for traction. A low heel can provide traction as well.
Take a look at the best wide-calf boots. All of them are highly rated on Amazon.