These $7 Tights Feel Like Yoga Pants — Plus, 5 More Ultra Comfy Pairs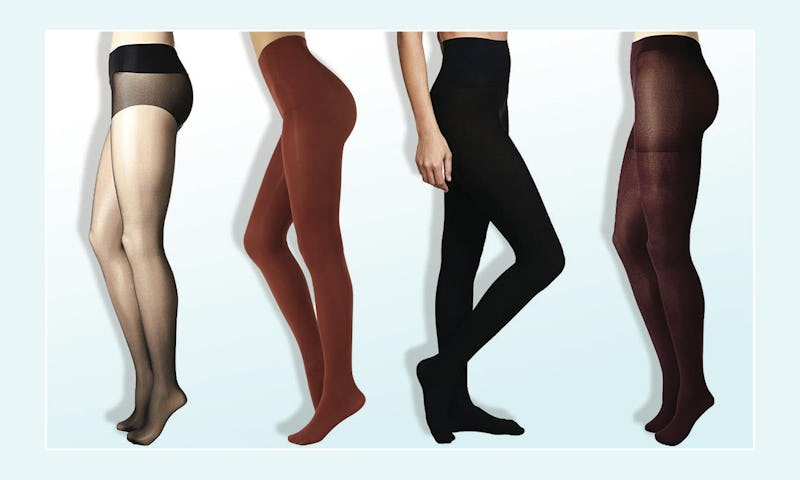 Bustle / Amazon
When donning your favorite skirts, tunic tops, and mini dresses, the most comfortable tights on Amazon can surely come in handy. In the roundup below, I've selected tights to cater to a variety of personal preferences and sizes. Whether you're looking for opaque black or patterned fishnet, there's a tight here for you.
Look For Stretch
Obviously comfort is key, and spandex adds flexibility to tights, making it an essential piece of the puzzle when it comes to wearability. In fact, spandex can expand to almost 600% of its size, making it the best fabric for stretch. It's also breathable and moisture-wicking, scoring it even more points for comfort. For all of those reasons, look for a high percentage of this material when shopping for tights.
When It Comes To Waistbands, You Have Options
Fortunately, you're no longer forced to wear the irritating waistbands of yore. Today, you can choose from tights with yoga pant waistbands that are designed to offer more flexibility and stretch, and to feel more like leggings at the top.
Since waistline placement is a comfort issue for many as well, I've included both high-waisted and mid-rise options, the latter of which hits at or below the natural waistline.
Let's Talk Control Tops
Let's be honest: Tights with control tops can keep you feeling more secure, which in its own right is a level of comfort. That said, they also give you a never-ending squeeze that many find incredibly uncomfortable (personally, I hate feeling constricted). That's why this list includes options with and without "control" designs.
With all that in mind, it's time to check out the most comfortable tights on Amazon. You'll find opaque, semi-opaque, sheer, and patterned fishnet options, and all of them are highly rated.