The 7 Best Vitamins For Hair Loss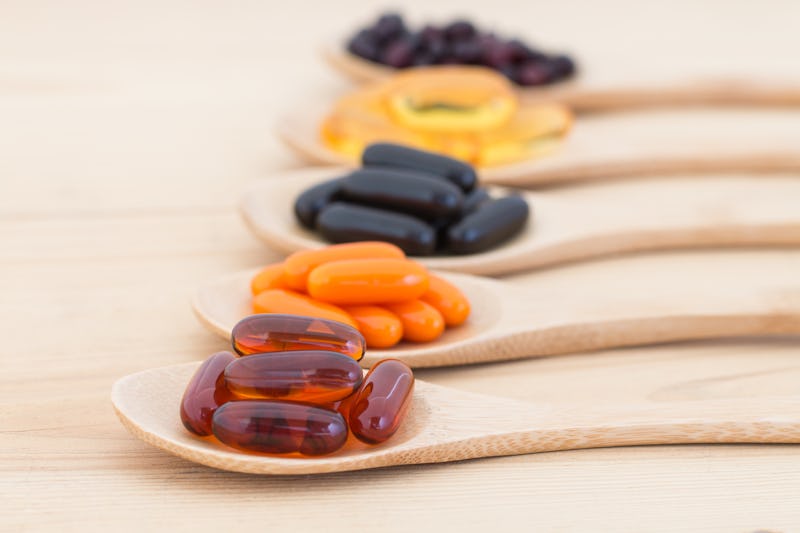 Supitchamcadam/Fotolia
Premature hair loss can be frustrating to deal with, but luckily, there are ways to treat it — like adding one of the best vitamins for hair loss to your daily routine. While you should always aim to consume a variety of nutrient-dense foods as your main source of vitamins, supplements can be a great addition if you're not getting enough of certain nutrients.
Since there are many different vitamins for hair available, I tapped Dr. Debra Jaliman, an NYC-based dermatologist, to learn which options are most effective. She recommends looking for amino-acid- and protein-rich supplements, specifically an ingredient called L-Cysteine, as they help the body produce keratin, a vital component of hair structure. As well, biotin and antioxidants such as vitamins C and E are also vital. "Free radicals can damage the scalp and the hair follicles, and these antioxidants help cells fight off free radicals," she says, adding that vitamin B12 and iron also play an important role in hair growth.
To help you navigate the often-confusing world of dietary supplements, I've compiled a research-backed list of the best vitamins to take for skin and hair based on Dr. Jaliman's recommendations. I've included a variety of options at different price points for you to choose from. Shop the best vitamins for hair loss, below.
Editor's note: There are a variety of factors that contribute to hair loss, and while vitamins can help, it's always best to check with your doctor before adding a supplement to your diet.
This article was originally published on