Why The Sexual Assault Claim Against Kavanaugh Probably Won't Affect His Confirmation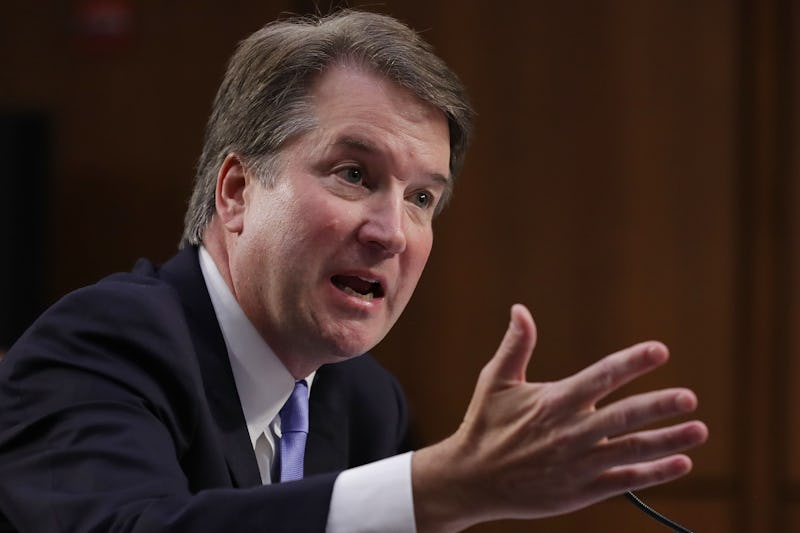 Chip Somodevilla/Getty Images News/Getty Images
Supreme Court nominee Brett Kavanaugh had a tense Senate confirmation hearing by anyone's standards — and things haven't exactly calmed down since the hearing ended. An unnamed woman told the New Yorker that Kavanaugh sexually assaulted her, but he quickly and categorically denied the claim. Now, it looks like the sexual misconduct allegation leveled against Kavanaugh probably won't stop him from being confirmed, but it has definitely added a new level of complexity to the process.
Bustle has reached out to Kavanaugh's office for comment on the allegations.
The New York Times drew a parallel between this revelation and similarly explosive claims that came out in the late stages of the confirmation processes for Justices Clarence Thomas and Neil Gorsuch. During Thomas' confirmation hearings in 1991, a former employee of his, Anita Hill, testified that Thomas had sexually harassed her when he was her boss. According to NPR, though, Thomas denied Hill's claims and the Senate Judiciary Committee didn't take them particularly seriously, confirming Thomas soon afterwards.
In the case of Neil Gorsuch, the claims against him were more academic in nature. Politico reported that it had received documents showing that Gorsuch had plagiarized other authors in his writings without properly attributing them.
At the time, the White House immediately responded to Politico by saying that Gorsuch had not done anything improper in his writings. Gorsuch, of course, was then confirmed to the court as President Donald Trump's first Supreme Court appointment. And according to the New York Times, it looks very likely that Kavanaugh's confirmation will continue next week as well, despite the allegations against him.
Several Republican senators have publicly defended Kavanaugh against the allegations. According to HuffPost, Sen. Chuck Grassley of Iowa released a letter signed by dozens of women from Kavanaugh's high school class, saying that "for the entire time we have known Brett Kavanaugh, he has behaved honorably and treated women with respect."
"I do not intend to allow Judge Kavanaugh's confirmation to be stalled because of an 11th hour accusation that Democrats did not see fit to raise for over a month," Utah Republican Sen. Orrin Hatch said in a statement.
"Judge Kavanaugh has denied these accusations categorically, the only other potential witness has no recollection of the alleged event, and now 65 women who knew Brett in high school have come forward as witnesses of his strong character," Hatch's statement continued.
The judicial committee vote on Kavanaugh's confirmation was postponed to Sept. 20, according to CBS News. Democrats had pushed for the vote to be held later because of the huge number of documents on Kavanaugh's record that they had not seen. While the Times reported that the White House and some Republicans were calling the sexual misconduct allegations a Democratic attempt to smear Kavanaugh, Democratic senators have remained focused on the missing documents, according to CNBC. The final vote to confirm Kavanaugh in front of the whole Senate won't happen until sometime in October, but so far, it does not seem as though the allegations against Kavanaugh will change his likelihood of being confirmed.