'The Bachelor's Whitney Bischoff Just Got Married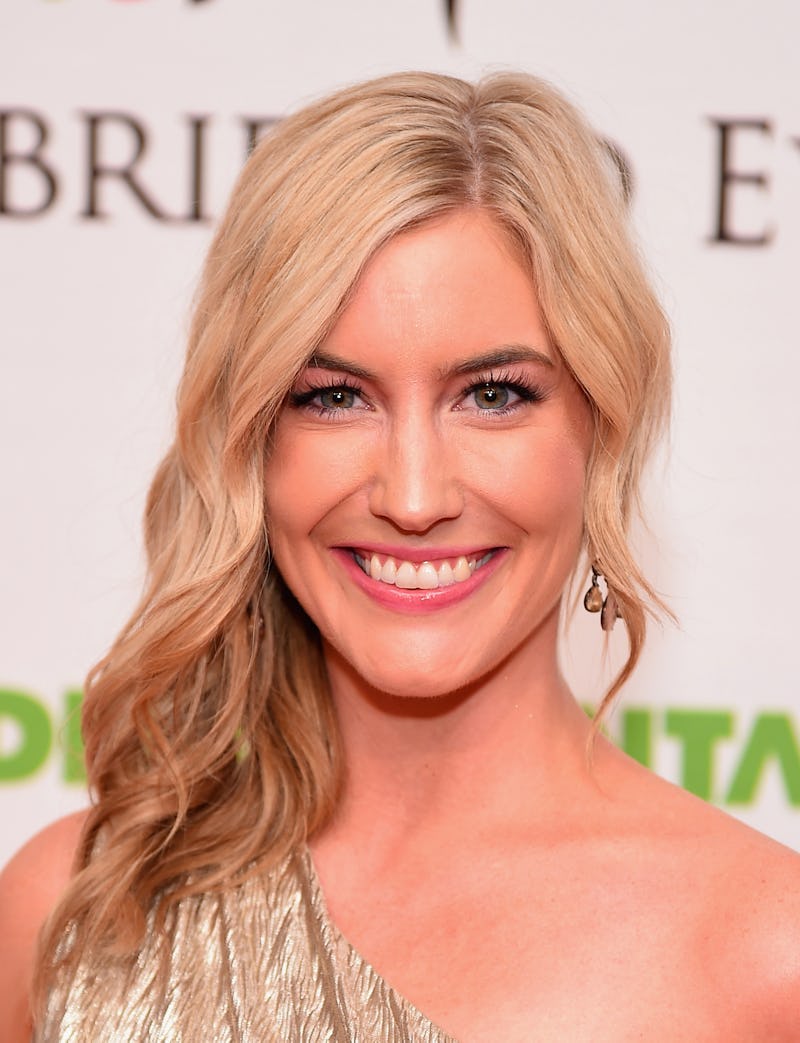 Michael Loccisano/Getty Images Entertainment/Getty Images
On Saturday, another Bachelor alum got their happily-ever after when The Bachelor's Whitney Bischoff married Ricky Angel, her partner of two years, in a beachside wedding in Cape Cod, Massachusetts. The former star received plenty of support from other Bachelor nation couples, and friends from the show Kaitlyn Bristowe, Shawn Booth, Evan Bass, and Carly Waddell were all in attendance. Bischoff, a 32-year old fertility nurse from Louisville, Kentucky, was engaged to former Bachelor Chris Soules after appearing on his season of popular dating series. The two split amicably in 2015. Not long after the break up, Bischoff opened up about her desire to date again in an interview with Us Weekly. That same year, she connected with Angel on the Bumble dating app.
While Bischoff was looking to date more casually after her break-up with Soules, she found something much more serious. According to People, Bischoff knew right away that Angel was the one. "As soon as I met Ricky, I knew," Bischoff told the magazine. "I was in a very raw emotional state after my breakup. And I could be myself with him. I didn't feel like I needed to put on a facade. I felt back to normal. It was a very refreshing feeling." The couple have been happily dating for a couple of years, and announced their engagement in on Instagram in July 2017.
In the formal Instagram announcement, Bischoff wrote: "Whitney Angel has a nice ring to it, yall! [ring emoji] @rickyrange16." In 2015, the former Bachelor contestant described her return to the dating world and who her perfect match would be. "Yeah, I'm just casually dating," Bischoff told Us Weekly of her post-Bachelor break-up life. "I don't know that I have a specific person that I'm looking for. I think that in general it's someone who makes me a better person, makes me happy, makes me laugh, and shares a common interest, so I don't know if there's a big stereotype with that." Angel, a sales manager, clearly ticks off some of those criteria. While the reality-star wasn't necessarily searching for a husband, her relationship with Angel was a welcome surprise.
The day before the wedding, Bischoff shared an Instagram post about the couple's first date. She wrote: "This one time, on 9/24/15, I went on a bumble date and met a really cute guy. He actually looked just like his pics!! He made me laugh. And he made me feel like I could be myself. He didn't care about my past. We were just two kids living in the moment. Fast forward 2 years & we are ready to get hitched in a matter of days. Life is a crazy ride, thanks for hanging on with me @rickyrange16 Happy National 'when I met you' day!"
The couple wed in an elegant ceremony at Wequassett Resort in Cape Cod. People also reported that the Bachelor alum wore a custom satin column gown that she designed with Audrey Grant Bridal, and her bouquet was made from white, blush, and peach blooms. It also included a Stargazer lily, which was her mother Carol's favorite flower. The bride also worked with an event planner from Always Yours Events to curate the day. "The theme to our wedding is 'Life has a beautiful crazy design'", she told the publication. "It's a line from our first dance that we feel relates so much to our lives and how we got to where we are today."
Fellow Bachelor stars showed up to show their support while Bischoff and Angel tied the knot. Newlyweds (and soon to be parents) Carly Wadell and Evan Bass were in attendance, as was Kaitlyn Bristowe and her fiancé Shawn Booth. Bristowe, who first appeared on Chris Soules' season of the show and became friends with Bischoff during that time, would go on to become The Bachelorette. It's there that she met and got engaged to personal trainer Shawn Booth, and the couple have remained together.
The wedding is well-deserved happy ending for Bischoff, who seemed to be unsure about her romantic future after her split with Soules. In her exclusive interview with People, Bischoff said that while she felt discouraged after her public split, she still hoped to get married. "I've always wanted to get married. I was scared for a while that I wouldn't be able to find that," she said. "But I have absolutely no regrets. Everything happens for a reason. And I'm so happy." The newly-weds seem super happy, and Angel was clearly the perfect guy to receive Bischoff's own final rose.