BSB's New Music Could Sound Totally Different Than '90s Fans Remember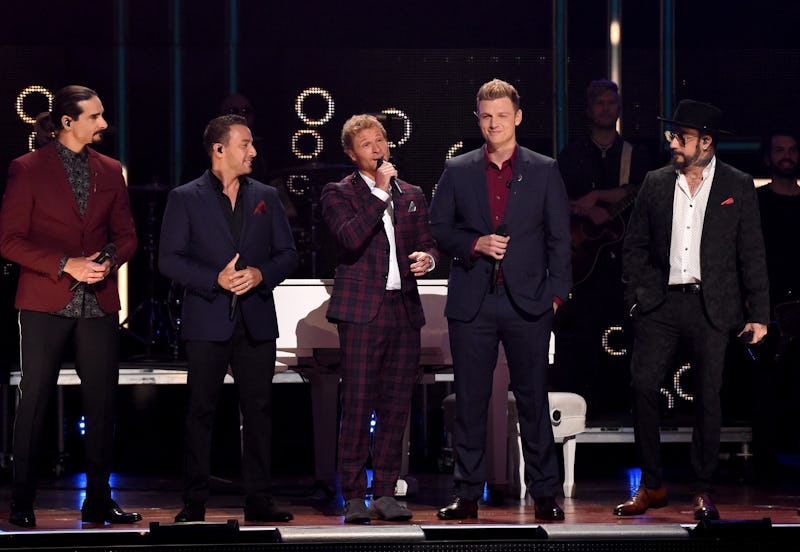 Rick Diamond/Getty Images Entertainment/Getty Images
Hold on to your seats guys and gals, because your favorite '90s boy band recently announced that they're gearing up to release new music. The Backstreet Boys might go country for their next album, according to Rolling Stone. Nope, that's not a joke — this could seriously be happening IRL. Kevin Richardson told the publication, "We cut some Nashville songs recently, and just yesterday I was in the vocal booth. So we're in the lab playing around, experimenting."
It might sound a bit far-fetched, as it's not exactly what you'd expect to hear coming from a boy band notoriously known for their meticulously choreographed dance moves and infectious pop harmonies. It goes without saying that the Backstreet Boys and their string of hits were the soundtrack to many of our lives during the '90s and 2000s. As such, it's kind of hard to imagine what to expect from this new country-infused sound that they intend to debut on the forthcoming project. It's also worth noting that BSB has pretty much never let us down in terms of music in the past, and therefore it's only fair that we give them a chance when their upcoming offering is released.
The switch up appears to be part of their upcoming 25th anniversary in 2018. Along with a new album, BSB plans to continue their Las Vegas residency and launch a new world tour. As far as the music is concerned, the band began dabbling in the country genre in 2016 amid a collaboration with Florida Georgia Line on their song "God, Your Mama, and Me." The single, which became a Billboard hit, was the first Backstreet Boy song to chart since "Inconsolable" in September 2007. In light of the new country success, BSB performed at the ACM Awards in April and has been co-headlining stadiums FGL to promote their music.
It appears that fans of both pop and country music are totally on board for a BSB crossover. Backstreet was invited to this year's CMT Artists of the Year special to pay homage to Florida Georgia Line by singing "H.O.L.Y.," the lead single from FGL's third studio album, Dig Your Roots, according to Rolling Stone. While waltzing the red carpet for the event, BSB members shared some of the fan reactions they've received since making their foray into the new genre.
"When news came out we were collaborating with FGL, my Twitter feed and Facebook feed was all fans commenting 'Oh my god, my two favorite groups are collaborating,'" Kevin Richardson said.
So, it seems that the change may be a good thing for the group, who Rolling Stone says found a massive audience similar to the crowds that the once drew in during their pinnacle of pop stardom.
From the sounds of it, they're going full-fledged when it comes to creating the right mood for the forthcoming project, which will become their 10th studio album. The band has decided to take their talents to the country music capital of Nashville, Tennessee, to record portions of the forthcoming project. BSB group member AJ McClean said, "Yes, there's a couple of tracks," when asked about country moments on the album.
The news, although a bit surprising at first, is an amazing announcement for fans of both genres of music who will get to enjoy the best of both worlds with the new Backstreet Boys album.
No release date for the project has been announced yet, however it seems to be coming in the near future judging by Richardson's reveal that they've been in the studio working on ideas. Now that they've officially tested the waters with the FGL collabo, there's no doubt that transcending pop to reach the country music fan base is going to be nothing but smooth sailing for the highest-selling boy band of all time.