This Book Just Won The Bad Sex In Fiction Award & You Can Read The Awkward Passage Now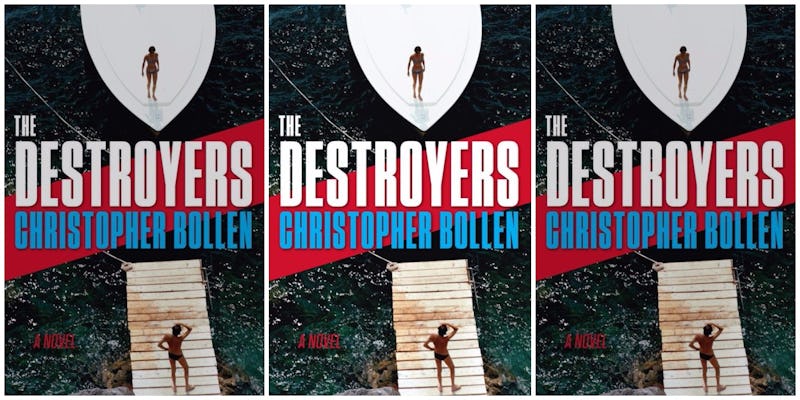 Authors and writers dream of getting industry recognition for their hard work, but not all book awards are welcome. Take it from U.S. author Christopher Bollen, whose novel The Destroyers was crowned the 2017 Bad Sex in Fiction Award winner. The announcement was made during an opulent ceremony at the In & Out Club in London. Unsurprisingly, Bollen was not in attendance to accept the prize, but 400 other guests drank champagne in honor of the author's decision to describe his character's nether regions as a "billiard rack."
Organized by the Literary Review, the award for Bad Sex in Fiction honors an author who "has produced an outstandingly bad scene of sexual description in an otherwise good novel," according to the prize's description. Bollen's The Destroyer took home the not-so-coveted prize when he was named the winner of the 25th Bad Sex in Fiction Award, beating out fierce and equally awkward competition. Other titles on the 2017 shortlist included Venetia Welby's Mother of Darkness, whose character "moans in colors," and Jarett Kobek's The Future Won't Be Long, which described having sex as getting "down to brass tacks."
While The Destroyers has received critical praise elsewhere — it was called "seductive and richly atmospheric literary thriller" by the New York Times Book Review and named an Esquire Best Book of the Year — Bollen's novel drew criticism from the judges for a particularly cringe-worthy passage that went "overboard in [its] attempts to describe the familiar in new terms," according to the Literary Review.
The Destroyers by Christopher Bollen, $19.03, Amazon
Featuring phallic billiard imagery and a confusion description of a woman's skin, you can read Bollen's most critiqued passage for yourself and be the judge:
"'Do me a favor,' she says as she turns. She covers her breasts with her swimsuit. The rest of her remains so delectably exposed. The skin along her arms and shoulders are different shades of tan like water stains in a bathtub. Her face and vagina are competing for my attention, so I glance down at the billiard rack of my penis and testicles. 'Let's not tell Charlie and Sonny about us. Let's leave them out of it. You know how this kind of thing can become a telenovela for everyone else.'"
Established in 1993 by journalist and writer Auberon Wagh, the prize for Bad Sex in Fiction turns a quarter century old this year, but why exactly does it even exist in the first place? According to organizers, it is intended to "draw attention to poorly written, perfunctory or redundant passages of sexual description in modern fiction." As many readers know, sex is a notoriously difficult subject to write well, and this unique award highlights the fact that it is often done, even in otherwise great books by talented authors.
Bollen may have been crowned the king of bad sex scenes this year, but he is far from the first author to be anointed into the club. Past prize winners (or maybe losers?) include Ben Okri's The Age of Magic, Christopher Hart's Rescue Me, Morrissey's The List of the Lost, and Norman Mailer's The Castle in the Forest. Last year, Erri De Luca's The Day Before Happiness took home the prize for it's memorable lines including "My prick was a plank stuck to her stomach," and "Our sexes were ready, poised in expectation, barely touching each other: ballet dancers hovering en pointe."
While the Bad Sex in Fiction Award list may not exactly be the best place to shop around for new reading suggestions, it will always be a great place to get a good, cringe-worthy laugh.
The Destroyers by Christopher Bollen, $19.03, Amazon