BBC News' Subtitle Gaffe Is Too Real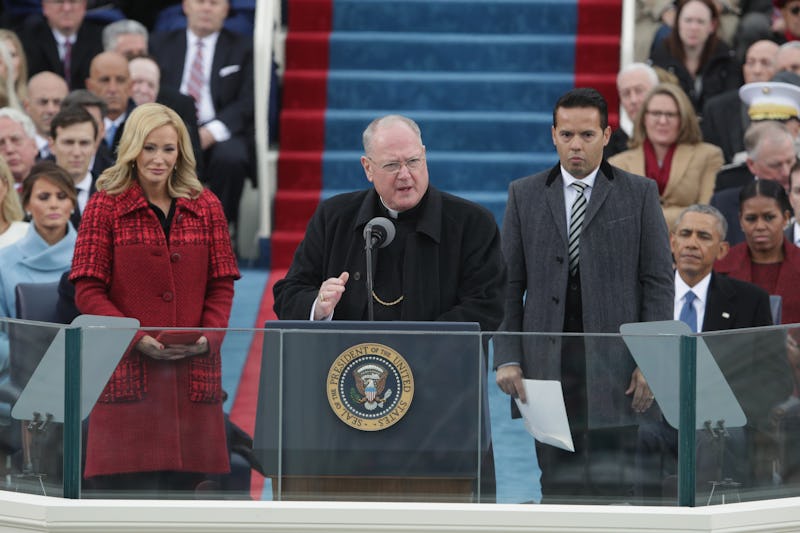 Alex Wong/Getty Images News/Getty Images
There wasn't a whole lot to be happy about today if you were among those who were saddened by Donald Trump's ascension to the presidency, but a snafu on BBC News' feed of the Inauguration gave a few people a chuckle. For a brief period, the wrong subtitles were displayed as Timothy Dolan, the Cardinal of New York, delivered an invocation. Twitter user @Kaytality caught it on video, and the results are both bizarre and delightful.
But upon my second or 12th viewing of the video, the subtitles started to seem to me as if they were a subtle commentary on the events themselves. The lines appear to belong to the BBC children's drama series The Dumping Ground, which is set in a children's care home in England, but the specific captions that popped up onscreen felt, at times, a little too real.
I've gone ahead and grabbed the most real moments and given my deep read of them. It may be the last time subtlety is employed in a presidential context over the next four years, though on the other hand, it's not as if this is the first time the Beeb's screen captions have gotten a little sassy.
First, We Get A Mention Of Sasha, Which, Like, Leave The Former First Daughter Alone
This Could Apply To Several People On That Inauguration Stage
But you know what? Mo definitely equals #Mobama, and we are all in a mood now that she's gone.
Meanwhile, Obama Looks Like He's Just Trying To Keep The Voices Out
The voices in his head are even arguing with one another.
In Each Other's Face, In Each Other's Room
Clearly, this is a reference to Trump occupying the Oval Office, which for many of us, will always belong to Obama. Thought this cross-fade was especially poignant.
Donald Trump, The Whatever President
First Amendment? Whatever. Women's rights? Whatever. Inappropriate relationship with Russia? все равно. (That's Russian for "whatever.")
We Don't Want Mother To Be Unhappy
I'm no psychoanalyst, but…
Is Bailey A Veiled Reference To Bo Obama?
Man, he really wants Sasha out of the White House.
Yes, Please, Let's All Just Go Home (And Hide Under The Covers For Four Years)
We'll take whatever small joys we can.
Images: @Kaytality on Twitter