Amazing Blow Dryer Bargains On Amazon You Have To See This Black Friday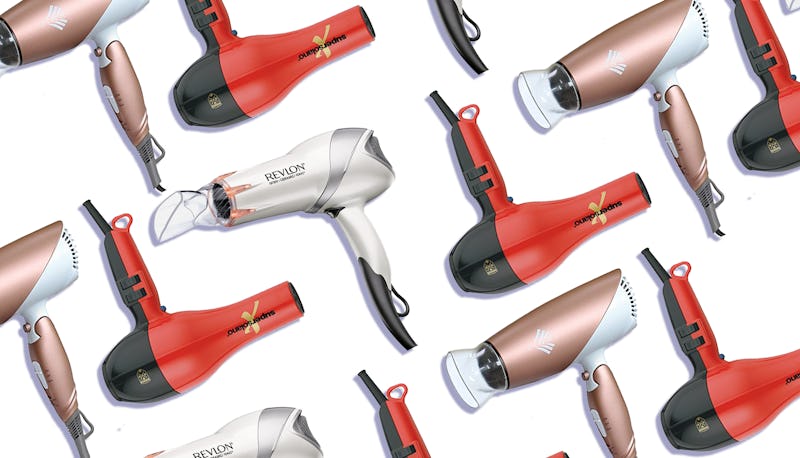 Amazon / Bustle
It's no secret that letting your hair dry naturally is a good thing, but when a soggy mop simply won't do, it's time to shop around for one of the best Black Friday deals on hair dryers so you can achieve a coiffed and polished salon-worthy hairstyle at home — especially now that the holiday season is in full swing.
These deals are so good, you'll be able to get a dryer for everyone on your gift list and still have enough coin left over to pick up the latest and greatest model for yourself, too. Considering this beauty tool is something many people use on a weekly basis, it's no surprise that dryers are among the most popular Black Friday beauty must-haves.
Since holiday shopping can be overwhelming, there are a few factors you should always consider when shopping for a hair dryer. Let's start with wattage. If you've ever tried to dry your hair with one of those wall models in a hotel bathroom, then you understand how important wattage is because it directly affects your hair dryer's power. Rule of thumb: Higher wattage equals decreased drying time, resulting in less damage to the hair.
Ionic dryers are great because they diffuse negative ions that help protect your hair from overheating. Traditional dryers, on the other hand, emit positive ions which can cause dryness and damage. On a less crucial (yet still important) note, look for features like numerous heat and speed options to cater to different hair types, attachments to assist with different styles, cord length if you're short on outlets, and volume if you don't want to wake up the rest of the world at 5 in the morning.
So, call off the dogs. Your holiday shopping will be complete after picking a few of these seriously discounted hair dryers that have a longer lifespan than that last slice of pumpkin pie.
We'll continue updating our selection as the deals keep rolling in, so bookmark this page to keep up on checking the best Black Friday bargains.