A Highly Curated Guide To The Best Body Lotions With SPF — Just In Time For Summer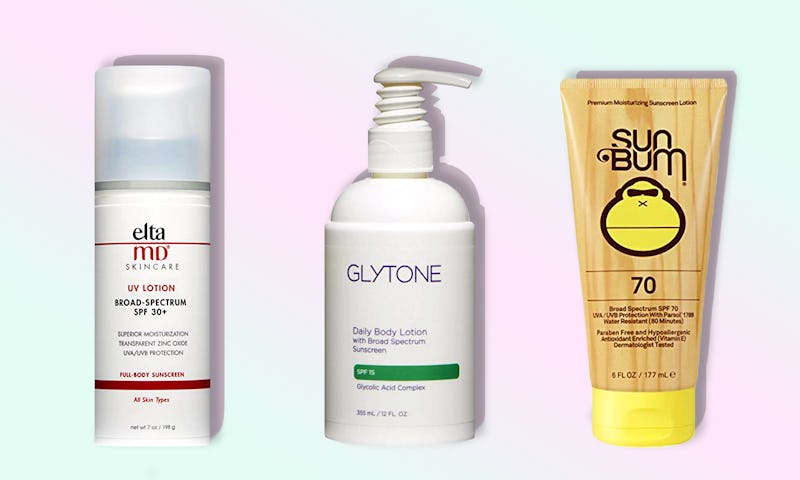 Amazon/Bustle
SPF comes in all forms — spray-on sunscreens, solid sticks, oils… even powders for your face. But nothing beats a classic lotion formula that hydrates and moisturizes your skin while it protects it from the sun. Of course, there are tons of options to choose from, so to truly narrow down a list of the best lotions with SPF, I reviewed and compared dozens of formulas — the winners of which you'll find ahead.
And what truly makes a lotion with SPF better than any other? The first thing to keep in mind is hydration. In my opinion, there's no point in applying lotion all over your body if it's not going to keep it moisturized. But you also don't want a formula that's going to be too thick, or too greasy — especially since you'll likely be using this sun-protecting product in the summer, when you only need something lightweight (during winter, you'll want to use a richer lotion, but unless you live somewhere that's sunny all-year-round, you probably don't need to be covered in head-to-toe SPF anyway).
Convenience is another factor — a pump bottle is the easiest, least messy way to apply body lotion of any kind. Only one product on this list doesn't come in a pump bottle.
Of course — and this is more important in maximum sun exposure situations — the higher the SPF, the better. Unfortunately, many of the best sunscreen lotions only have an SPF of 15. If you plan on lying out at the pool or on the beach, you'll want to reach for something with an SPF of at least 30 or add an extra layer of sunblock.
I took all of these factors into consideration, and the products ahead combine many of these key features in one pretty, as-big-as-I-could-find bottle — one pick even comes in a budget-friendly three pack! So without further ado, find the best body lotions with SPF, ahead.