The Best Line From Obama's Final White House Press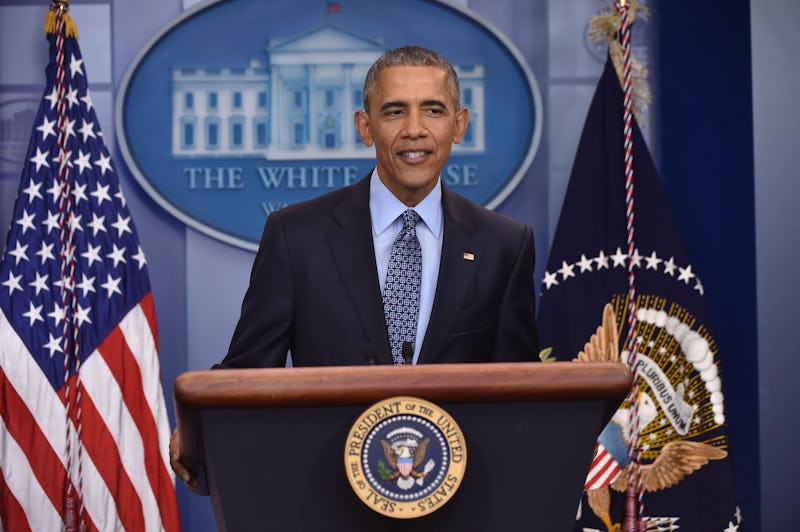 NICHOLAS KAMM/AFP/Getty Images
It wasn't the teary-eyed affair that it could have been, but the White House Press Corps had no plans of wasting President Obama's final press conference in the White House. Professional as ever, the reporters assigned to daily Obama detail got to grill him one last time, and in return, he expressed his appreciation for their hard work while simultaneously taking a not-so-subtle dig at Donald Trump.
"Having you in this building has made this place work better," President Obama said to the assembled reporters, reaffirming the importance of the media at a time when the entire institution of journalism seems under attack.
This unruly, divisive, and distrust-filled campaign cycle will be remembered for a lot of things, but most important may be the nation's evolving, or perhaps devolving, relationship with the press. While the relationship between politicians and the news media has never been easy, it's never been quite this fraught either. That anxiety and potentially historic sentiment prompted Obama to indirectly address Donald Trump's proposal to move the White House Press Corps further away from the West Wing. Obama acknowledged that there's little he can do after leaving office, but he let the reporters know how much he appreciates them, both personally and professionally.
"I have enjoyed working with each and every one of you," Obama said. "That does not of course mean that I have enjoyed every story that you have filed, but that's the point of this relationship. You're not supposed to be sycophants, you're supposed to be skeptics... Having you in this building has made this place work better. It keeps us honest. It makes us work harder."
CBS News correspondent Mark Knoller pointed out that this is President Obama's 224th press avail since the beginning of his first term, so the difference for reporters starting Friday may be a bit jarring. However, these highest-tier journalists are pretty good at finding out information that people are trying to keep from them (it's their job, in fact). Even if Donald Trump maintains his penchant for avoiding them, they'll still be able to find plenty to write about.
As President Obama very correctly points out, the United States and other democracies will always need talented and persistent journalists to hold those in power accountable to the electorate. Without a truly free press, the government can quickly become abusive or abused. Demeaning ethical, responsible journalists actually exacerbates the problems facing the nation, so finding a way to restore national trust in the press is one of the most important challenges to tackle in the post-Obama era.