These Are The Best Wand Moments In Harry Potter & Yes, THAT Patronus Scene Is On It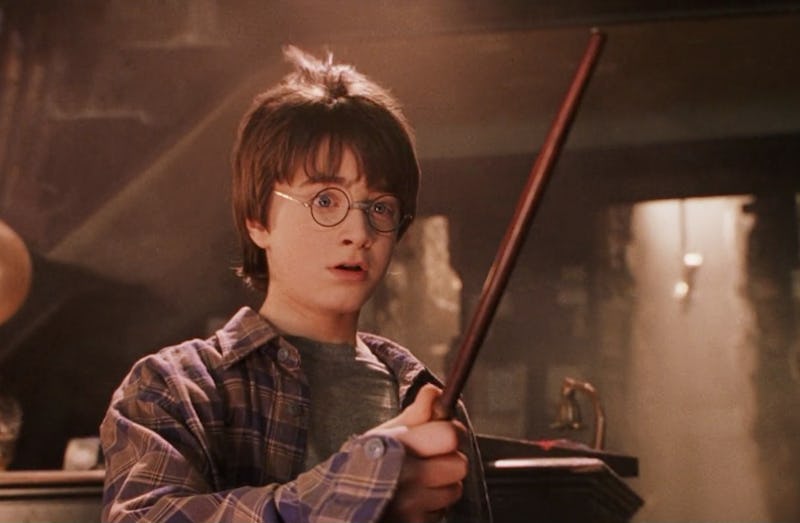 Warner Bros.
In the years since Harry Potter and the Deathly Hallows was released, we have been lucky enough to return to the wizarding world again and again. From gorgeously illustrated rereleases to Pottermore posts to informative books on everything from Hogwarts classes to Fantastic Beasts, J.K. Rowling and her team have put forth a treasure trove of new and exciting information. And now the latest book, Harry Potter: The Wand Collection, is joining the ranks.
The book trailer, which was exclusively released today by Entertainment Weekly, has compiled footage from the films involving some of the biggest and best wand moments (think Harry's first trip to Ollivander's to buy his fated wand and conjuring his first Patronus in the Forbidden Forest to save Sirius from the Dementors) with teasers of all the exciting details can expect from the new book. Which, it turns out, is quite a lot. Harry Potter: The Wand Collection promises to be an in-depth guide to the many magical characters and wands of the Harry Potter films, teaching you everything you never knew you wanted to learn about the movie magic behind our favorite wizards' wands.
From Hermione Granger's elaborately carved wand to the uniquely talon-shaped handle on Lord Voldemort's, each wand was crafted especially for the character, a reflection of its owners identity. And the new book will provide a detailed look at just how each of these wands were conceived, including what they're made of, and just how the design came to represent each character's unique personality and traits.
Best yet, almost every major character is included. So whether you're desperate to know more about Fred and George Weasley's never-before-discussed wands, to the more high-profile wands like Harry's and Voldemort's, you'll find everything you could ever want to know within these pages. You'll feel like you've just taken a one-on-one wand making course with Ollivander himself after you've flicked through this tome.
Harry Potter: The Wand Collection, $29.99, Amazon
This beautiful hardback book will be a must-have for any and every Harry Potter fanatic this holiday season, so make sure you grab one, or two, or three, right now before they're all gone. And if you're still not sold on it (though, let's be honest, you've probably already clicked that Add To Cart button) check out some spreads from the book below! It definitely looks like it promises to be a most illuminating magical experience. Head over to Entertainment Weekly to see the video.