Boy Scouts Will Finally Allow Transgender Boys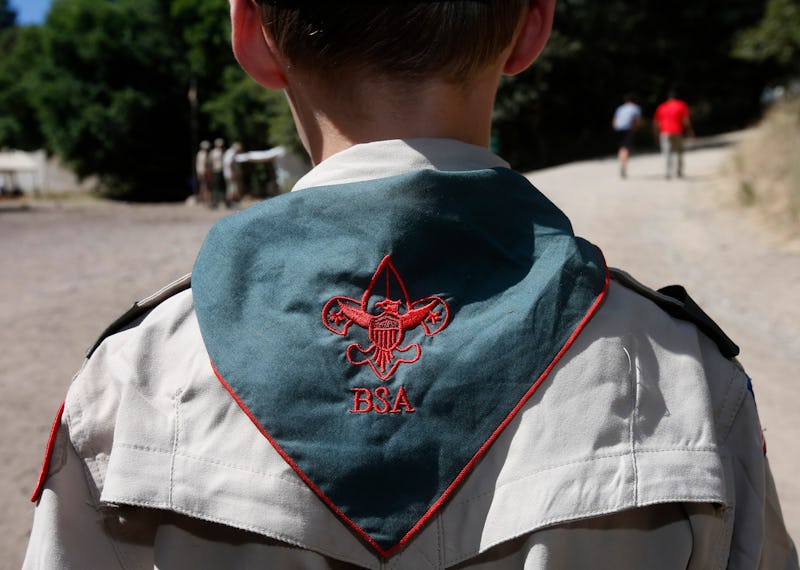 George Frey/Getty Images News/Getty Images
According to the Associated Press, the Boy Scouts of America will allow transgender boys to join its scouting programs after a long history of excluding certain children from the organization. The Boy Scouts didn't allow gay children to participate until a resolution was implemented at the beginning of 2014, and it wasn't until 2015 that the restriction on gay Boy Scout leaders was lifted. But less than a month ago, a transgender Boy Scout was kicked out of his chapter.
Joe Maldonado, 8, was banned from his New Jersey Cub Scouts chapter in December, about a month after he joined. According to The New York Times, while his fellow Cub Scouts accepted Maldonado for who he is, it was parents who complained and got him removed from the group, with the Boy Scouts of America stating it was because he did "not meet the eligibility requirements to participate."
Going forward, while the Boy Scouts of America will still keep its scouting programs boys-only (the organization also has co-ed programs), it will only consider the gender that the child or parent lists on the application to the program, the Associated Press reported. Before, it required a birth certificate that stated "male" for entrance into the boys-only programs.
The Girl Scouts, however, allowed transgender children into its ranks before the Boy Scouts was even accepting gay children. In 2012, a 7-year-old transgender girl was part of a troop in Colorado, which prompted opponents to enact a "cookie boycott" in protest. That didn't work, and in 2015, the Girl Scouts doubled down on its commitment to inclusion of all children.
The Boy Scouts' decision to allow transgender children will almost certainly bring about backlash like the Girl Scouts saw in 2012. But spokesperson Effie Delimarkos said in a statement that the Boy Scouts of America is "committed to identifying program options that will help us truly serve the whole family, and this is an area that we will continue to thoughtfully evaluate to bring the benefits of Scouting to the greatest number of youth possible — all while remaining true to our core values, outlined in the Scout Oath and Law."
That's something Maldonado might appreciate, assuming he wants to rejoin his old chapter that asked him to leave. When he was kicked out in December, he told The Record newspaper in New Jersey, "It made me mad. I had a sad face, but I wasn't crying. I'm way more angry than sad. My identity is a boy. If I was them, I would let every person in the world go in. It's right to do."