Bustle's Editors On Kellyanne Conway & 'Hamilton'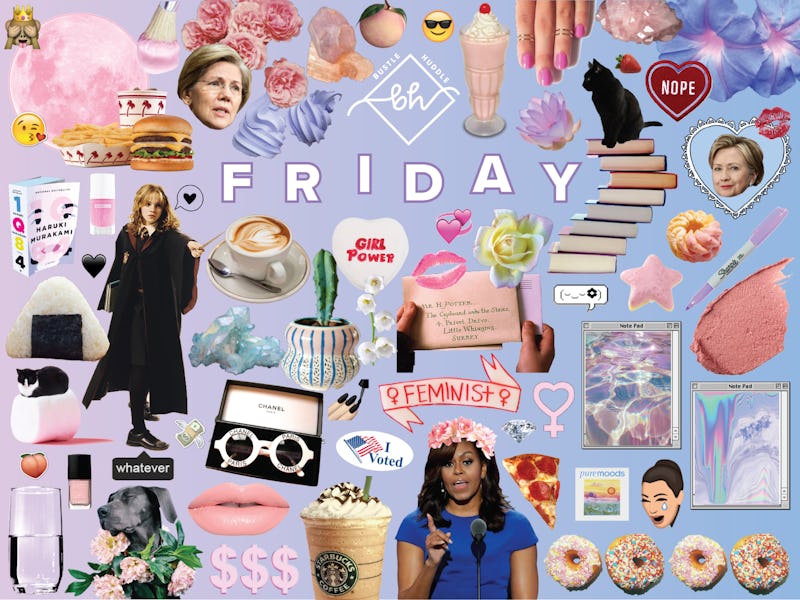 It's been exactly one week since Donald Trump was sworn in as president, and *a lot* has happened. Between Trump's executive orders on the Global Gag Rule, construction of the Dakota Access Pipeline and Keystone XL, and the infamous U.S.-Mexico border wall, our heads are spinning. When you add in Academy Awards nominations, Dita Von Teese's Bustle App takeover, and the devastating death of Hollywood icon Mary Tyler Moore — well, It's. Been. A. Week.
TGIF has never felt so REAL. Cheers to a happy weekend! Here's what to chat about with your friends at happy hour:
Kellyanne Conway + "Black-Stretch-Pants"
ICYMI: Kellyanne Conway wore an uber patriotic outfit on Inauguration Day. We're talking red, white, and blue from head to toe. Almost immediately, memes and jokes started popping up on Twitter comparing Conway to everyone from Paddington Bear to LL Cool J (LOL). Needless to say, Conway was not thrilled. In an interview with the Hollywood Reporter, she responded to the criticism by saying she's "sorry to offend the black-stretch-pants women of America with a little color." Yikes. Not really sure if she's just talking about yoga pants or those black stretchy pants that you sometimes wore to fancy occasions in the early '00s. You know the ones I'm talking about.
Either way, black stretchy pants matter, and here's why.
Hold up: Feeling a little overwhelmed with all of the recent Trump and Pence news? This could help.
Kylie Jenner + Valentine's Day
Kylie Jenner's releasing a special Valentine's Day collection at 6 p.m. ET/3 p.m. PT on Feb 2. We're talking new lipstick, eyeshadow, blush, and more just in time for V-Day, Galentine's Day, or whatever else you've got planned. Just take all my money now.
WTF of the Day: Kim Kardashian's nails are pierced. Yes, you read that correctly. That is all.
Mike Pence + The March For Life
VP Mike Pence announced plans to speak at The March For Life, an annual pro-life march in Washington, D.C. Pence has stood firm on his pro-life stance, working to defund Planned Parenthood with the Trump administration (you might even recall all of those donations to Planned Parenthood in Pence's name right after the election).
Pence will be the first vice president to speak at the march, though past Republican presidents have participated via phone and video messages, according to the Washington Post.
Ummm... Did Donald Trump Photoshop his hand in this White House photo? That's what the Observer's Dana Schwartz asked on Twitter (the tweet has since been deleted) after spotting the photo in question and, naturally, the internet's going crazy. There's no evidence to officially support these claims, but people are seriously starting to investigate.
Taylor Swift + Zayn Malik
The music video for Taylor Swift and Zayn Malik's collaboration finally dropped, and it was definitely worth the wait. We first learned about "I Don't Wanna Live Forever," the duet for Fifty Shades Darker, back in December. Since then, fans have been eagerly awaiting the music video. I could tell you it didn't disappoint, but just see for yourself:
Music to Our Ears: If you needed *one* more reason to watch the Super Bowl next weekend, there will be a special Hamilton performance to kick things off. That's right, the original Schuyler sisters will sing "America the Beautiful" before kickoff (approximately 6:20 p.m. ET). YAASSS.
What to Watch: January's coming to an end and Netflix is about to give the boot to a number of your favorite movies. Hurry, here's what to watch before it's gone on Feb. 1 (I'll be starting with #12...).
Here's What to Expect This Weekend: Hot date coming up? Brunch with the squad? Here's exactly what you can expect this weekend, based on your zodiac sign.
Images: Dawn Foster, Chelsea LaSalle, Alyssa Foote/Bustle