This Bill Wants To Change How College Campuses Address Sexual Assault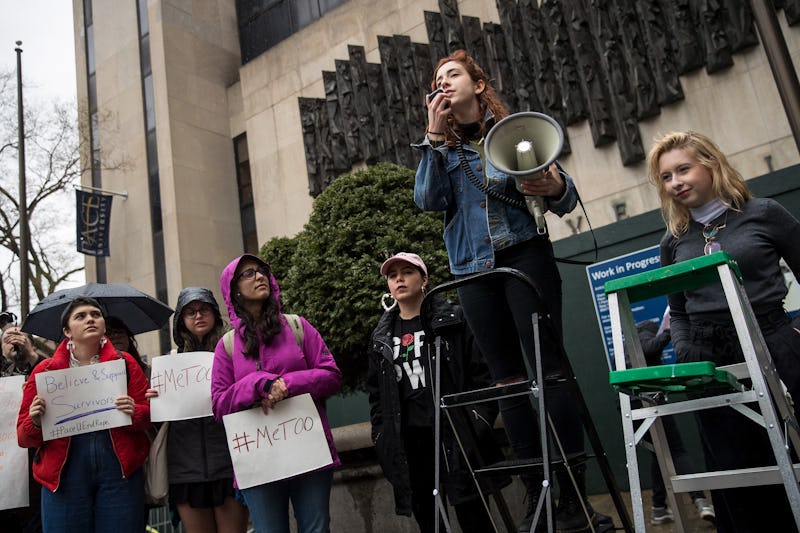 Drew Angerer/Getty Images News/Getty Images
Two senators from opposite political parties recently united to take a stand against sexual assault on college campuses. The lawmakers re-introduced the Campus Accountability and Safety Act, a bill which could fundamentally change how colleges address sexual assault cases. The legislation seeks to prioritize students' protection above all else.
Democratic Senator Kirsten Gillibrand of New York and Republican Senator Charles Grassley of Iowa re-introduced the Campus Accountability and Safety Act on Tuesday. As The Hill described, the legislation had previously been introduced by former Democratic Senator Claire McCaskill of Missouri back in 2015, though it never made it out of committee.
As The Hill reported, the bill establishes a host of standardized procedures for colleges when handling sexual assault cases — and aims to both diminish sexual assaults on campuses and better assist survivors. As the outlet described, the bill would mandate that colleges and universities have designated sexual assault response coordinators to ensure that survivors have access to support and any services they may need. Moreover, the Campus Accountability and Safety Act further requires that colleges have a uniform approach to disciplinary proceedings for sexual assault cases, The Hill noted. The outlet added that it also specifically bars college athletic divisions from independently handling sexual assault allegations.
As Senator Gillibrand outlined on her website, the bill would also mandate transparency around how sexual assault is addressed on campuses. The legislation would require that American college and university students be surveyed about their "experience with sexual violence [on campus] to get an accurate picture of the problem." The results of this survey would then be published online, as would the names of any schools with investigations or resolutions related to their handling of sexual assault cases.
If the Campus Accountability and Safety Act is enacted, there would also be strict penalties for any schools that refuse to adhere to its requirements. As Gillibrand noted on her website, "schools that do not comply with certain requirements under the bill may face a penalty of up to 1 percent of the institution's operating budget." The senator's website also added that schools could additionally face increased fines (up to $150,000) for violating the Clery Act, a law which requires colleges to track and report campus crime statistics.
Senator Grassley explained why he believes the Campus Accountability and Safety Act should be prioritized in a statement on his website. As Grassley noted:
When something as traumatic as sexual assault occurs on campus, students need a place they can go for support and unbiased information about their rights ... This bill takes active steps forward to help facilitate communication and support between universities, students and law enforcement, as well as foster a positive sense of community on campus.
Gillibrand shared similar thoughts in a statement of her own, specifically emphasizing that more needs to be done to protect students on campus. "Sexual assault is pervasive in colleges and universities all over the country, yet Congress has not done nearly enough to address this crisis," the senator said via The Hill. "For far too long institutions have gotten away with sweeping this problem under the rug. Students are demanding that Congress take this problem seriously, and we must listen to them."
Overall, with the Campus Accountability and Safety Act's bipartisan sponsorship, it certainly seems possible that the legislation could receive significant support in the Senate and beyond. For college students, the bill's passage could make a big difference in how their schools address sexual assault cases in the future.