The Charlottesville Man Who Punched A White Supremacist In 2017 Was Fined Just $1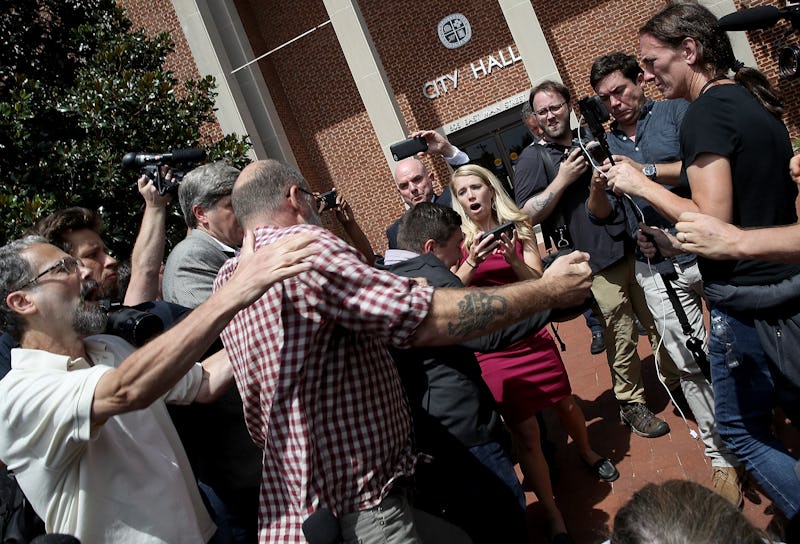 Win McNamee/Getty Images News/Getty Images
In 2017 — just a day after anti-racism activist Heather Heyer was killed at the Unite The Right rally in August — a Charlottesville man punched a white supremacist. Now, Jeffrey Winder, who was convicted of misdemeanor assault, will have to pay a fine. But instead of serving time in prison and paying a hefty sum, Winder was fined fined only $1 for throwing a punch at white supremacist Jason Kessler, who organized the rally.
Although Winder was found guilty of misdemeanor assault in February and given the initial punishment of a month in jail, he appealed the decision. On Tuesday, the jury affirmed his sentence but decided his punishment should be much shorter, according to WVIR. The jury in Winder's case concluded that he should spend no time behind bars and only pay $1 for his actions. His attorney, James Abrenio, told NPR, "They clearly thought about it very sincerely" and noted that the judge and jury were "all kind."
Things could have gone radically different for Winder. If the jury went with the maximum sentence, he would have had to spend a year in prison, on top of paying a $2,500 penalty.
In 2017, Winder told NBC29, "[Kessler] had an incredible amount of nerve coming in front of the people of Charlottesville after the pain, suffering, and terror that he brought on the community. He should never be allowed to show his face in town again." Photos from last year show Winder grabbing Kessler by the shoulder and raising his fist to throw a punch at the white supremacist.
Last year, an NBC29 recording of the encounter between Kessler and Winder depicted chaos in Charlottesville. Dozens of cameramen swarmed both men as Winder attempted to punch the white supremacist. A frantic-looking Kessler, looking at the crowd around him, can be seen running away from the media and other people in the area.
While speaking of the incident on Aug. 13, Kessler told The Daily Progress that he did not face any physical injuries. But he claimed he apparently underwent stress. "I was attacked in front of the whole world, and then people made fun of me for it," Kessler told the publication.
Even fellow white supremacists such as Richard Spencer distanced themselves, publicly at least, from Kessler in 2017. Less than a week after Heyer was killed at the Unite The Right rally, Spencer tweeted a screenshot of Kessler tweeting Heyer was a "fat, disgusting communist." In the screenshot shared by Spencer, Kessler said, "Communists have killed 94 million. [It] looks like it was payback time."
CNN reported Abrenio said that Kessler's presence in public, after the killing of Heyer, was to "profit" from her death. "The circumstance of this case is obviously not something that I don't think has ever been seen before: We have a guy [Kessler] who is going out of his way to take, make profit off tragedy, and that's really what this is about," Abrenio said. Winder's attorney told the press that he would not comment on behalf of his client.