Disney Fans Will Want Every Single Thing In Kiehl's New Skin Care Collection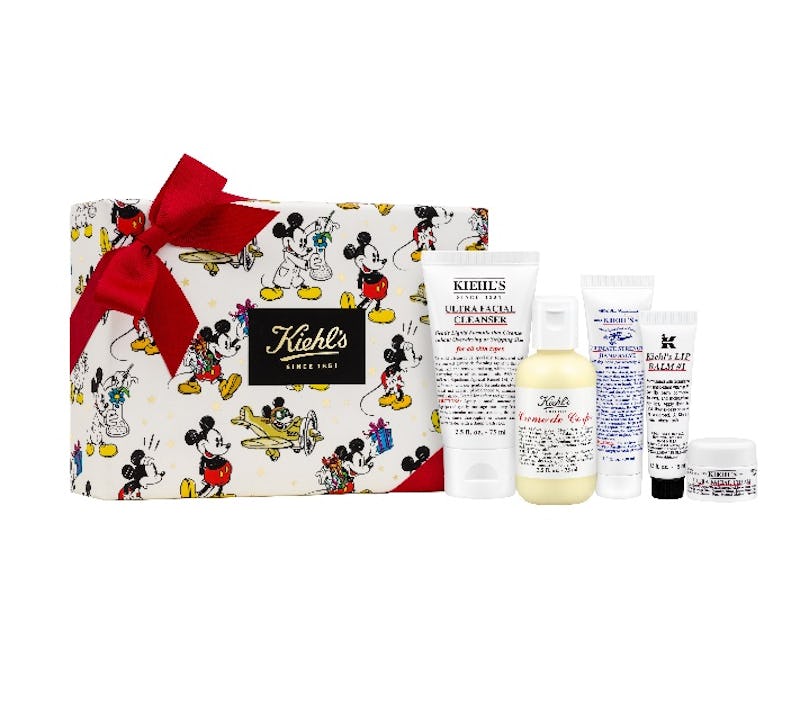 Kiehl's
It feels good when your beauty addiction gives back, which is exactly the idea behind Kiehl's philanthropy. Kiehl's has been selling skincare products since 1851, and what started as an old-world apothecary is now embracing their child-like side for a cause. That's where their Disney x Kiehl's Holiday Collection comes in.
For nine years now, the brand has been running an annual Limited Edition Charitable Holiday Collection, where a certain amount of their proceeds go to a charity of choice. Passionate about giving back to the community that has long supported them, Kiehl's has decided to collaborate with Disney this year to raise money for Feeding America, the largest hunger-relief organization in the U.S. that serves one in seven Americans.
With the holiday season just around the corner, you might already be thinking about what kind of gifts to get for your family or friends. Why not have those presents work double-duty by delighting the person who's ripping open the wrapping paper, and helping get a meal into someone's hands this winter? Up to $100,000 of the profits will go to the organization, helping provide 1,100,000 meals to families in need this holiday season. And seeing how Feeding America has been working overtime in the multiple hurricane-affected zones this fall, they can use as much support as possible.
Collection For A Cause, $45, Kiehl's
Seeing how the brand has been supplying the finest skincare products for 166 years now, this collection doesn't disappoint. Featuring Mickey on its packaging, the collection includes four items: Whipped body butter in a grapefruit scent that's only available during the holidays, a trio of scented hand creams, a gift box, and a tin, creating a swoon-worthy present for any beauty lover on your list.
Choosing Mickey Mouse as the theme wasn't a coincidence — it ties in with Feeding America, and the fact that this collection will help families and children gain food security. One in six kids in America do not know where they will get their next meal, which is partly the reason why the organization works so hard to secure and distribute four billion meals annually. Featuring one of childhood's biggest icons across Kiehl's charitable collection helps remind those buying the beauty products that their money will go to an important cause.
"I can't think of a more fitting way to support children and families in need than with this collection featuring Mickey Mouse," said Kiehl's president Chris Salgardo. "Disney has been bringing joy to children and families everywhere for generations, and we are honored that this collaboration will raise funds for those with food insecurities."
Take a look at the specific breakdown of products for yourself:
1. Collection For A Cause
Collection For A Cause, $45, Kiehl's
This Mickey Mouse tin comes with a Calendula based collection, where you get a Calendula Deep Cleansing Foaming Facial Cleanser, Calendula Herbal Extract Alcohol-Free Toner, Calendula & Aloe Soothing Hydration Masque, and an Ultra Facial Moisturizer. With your $45, you'll be supplying 350 meals.
2. Creme de Corps Grapefruit Whipped Body Butter
Special Edition Creme de Corps Grapefruit Whipped Body Butter, $38, Kiehl's
This is a luxurious and lightly scented cream, meant to be light on the skin and give you 24-hour hydration. With your $38, you'll be providing 355 meals.
3. Scented Hand Cream Trio
Special Edition Scented Hand Cream Trio, $35, Kiehl's
Coming in grapefruit, coriander, and lavender, these rich formulas are made with Vitamin E and Shea Butter to leave skin feeling soft and hydrated. For $35 you'll be providing 310 meals.
4. Hydration Essential Gift Set
Hydration Essential Gift Set, $29, Kiehl's
This is a beauty set that zeroes in on all of your hydration essentials, providing you with an Ultra Facial Cleanser, Ultra Facial Cream, and an Ultimate Strength Hand Salve and Lip Balm. For $29, you'll be buying 212 meals.
The collection launches at Kiehl's stores and on kiehls.com on November 2, so you don't have to wait very long to get your hands on these Mickey Mouse essentials. And if you want to continue doing good after your purchase, be sure to check out Feeding America and see how you can get involved year-round.