Here's The Chilling Ending Of 'The Haunting Of Hill House' Book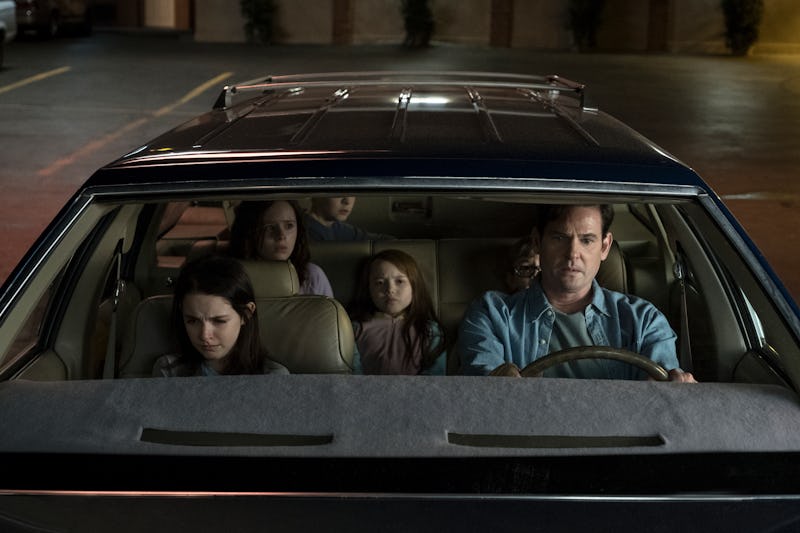 Steve Dietl/Netflix
When the upcoming Netflix series The Haunting of Hill House launches on Oct. 12, fans may be compelled to track down the inspiration, the revered 1959 Shirley Jackson novel of the same name. But be warned; the ending of The Haunting of Hill House book will seriously give you nightmares. While the premise of the Netflix series sounds perfectly engineered to make you accidentally watch like six episodes in a row — a group of siblings, raised in what would become a famously haunted house, reunite as adults and are forced to reckon with their ghosts, per a Netflix press release — what happens in the television series varies dramatically from the book.
Hill House author Shirley Jackson, the queen of the 20th century horror genre, relied more on terror than outright violence or gore to get under her readers' skin. With chilling dialogue and paranormal disturbances left vague, unexplained, and just open enough for us to imbue scenes with our own deepest fears, Jackson's The Haunting of Hill House is a masterful ghost story... or is it a story of the unspeakable fear of what lies deep inside each of us?! Argh, Shirley!
In the book, Dr. Montague, a doctor of philosophy, rents Hill House, an old mansion with a history of paranormal activity, from the house's heir, Luke Sanderson. Dr. Montague is on a quest: He wants to prove the credibility of paranormal activity. He begins reaching out to people with documented paranormal experiences in their past to come and stay at the mansion; only Eleanor Vance, a painfully sheltered young woman who, at the age of 12, was allegedly set upon by a poltergeist, and Theodora, a free-spirited artist with apparent mind-reading abilities, accept.
Heads up: big, big spoilers lie ahead.
Immediately, Eleanor, who has spent the last decade caring for her mother who eventually died, feels a deep, intoxicating connection with the house. "She shivered and thought, the words coming freely into her mind, Hill House is vile, it is diseased; get away from here at once," writes Jackson.
But Eleanor doesn't leave. She begins witnessing supernatural occurrences that leave the rest of her housemates bewildered. In a particularly chilling scene, Eleanor chases the voice of her dead mother through the house, laughing and dancing as she climbs higher and higher into a crumbling turret. Eleanor's grasp on reality also loosens by the day, and it becomes clear to the rest of the house occupants that there's only one solution: Eleanor must leave Hill House in order to break the hold the mansion has on her — and fast.
But when confronted by Dr. Montague, Luke, and Theodora, Eleanor slips deeper into a dreamy, infantile state. "They can't turn me out or shut me out or laugh at me or hide from me," thinks Eleanor. "I won't go, and Hill House belongs to me."
And where is she to go? Her mother is dead. Her sister, on whose couch she had been sleeping before Hill House, is still furious that Eleanor ever chose to participate in Dr. Montague's study. Eleanor has nowhere to go, no one to rely on. Hill House is the only place she's ever felt wanted.
But Dr. Montague, Luke, and Theodora are insistent that the only way Eleanor can thrive is if she leaves and drives away in her car, free from supervision. Dr. Montague wants no reminders of the house to follow Eleanor out. It's the only way for her to make it out of the situation alive, he thinks. So Eleanor concedes. She gets into the car, unfamiliar with her former belongings now after having made a home out of Hill House. She looks back at her box of belongings, all she's got left. And she begins to drive off — until she's struck by an idea.
"I am really doing it, she thought, turning the wheel to send the car directly at the great tree at the curve of the driveway, I am really doing it, I am doing this all by myself, now, at last; this is me, I am really really really doing it by myself." And in the final moment before Eleanor's car hits the tree, the hold of Hill House seems broken for one, brief, terrifying second. Why isn't anyone stopping me, wonders Eleanor. "Why am I doing this?"
The Haunting of Hill House ends, in many ways, as it began. The inhabitants scatter. Dr. Montague retires from academia. Luke Sanderson heads to Paris. Theodora returns to her apartment and her friends. And Hill House, and whatever remains within its walls, stands alone — but not empty.