Taylor Swift's New Music Video Just Brought Back The Evil Kermit Meme, According To Twitter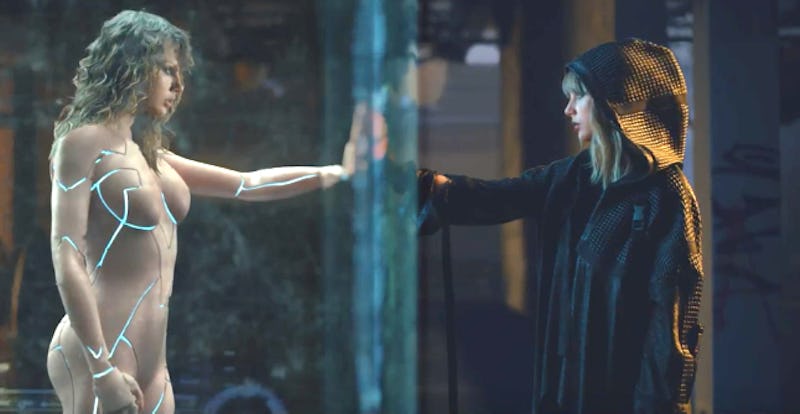 Taylor Swift on YouTube
Early on Friday, Oct. 27, Taylor Swift released a new music video, and it is bananas. As far as the internet is concerned, the Evil Kermit meme has been brought back, and it's all thanks to Swift's "Ready For It" music video. The visual is the latest one to drop in advance of Reputation, which is out on Nov. 10. Swift's over-the-top, seemingly Ex Machina-inspired video centers on two competing versions of herself and neither of the "...Ready For It?" Swifts seem especially human. Rather, the dueling androids represent lighter and darker sides of the singer's public persona.
This has been a grueling album cycle for Swift as she attempts to musically reclaim her narrative in the media. Between the reference-heavy "Look What You Made Me Do" video and the message about burning witches scrawled onto a wall as dark Swift is electrocuted in the "...Ready For It?" video, the singer is putting herself (and her fans) through quite a lot over Reputation. So, obviously, Twitter had to resurrect the Evil Kermit meme for this. One of the Swift doppelgängers is literally wearing a black hood, whether this meme was Swift's intentional message or not.
Baby, let the games begin.
1. There Was This Simple Observation
A clean, elegant, no fuss analogy. But that was only the beginning.
2. This Person Still Needs Some Time To Think It Over
Sometimes, it's easier to ask the question than to accept you've known the answer all along.
3. One Fan Thinks It's Hilarious
Sounds like this user was, indeed, ready for it.
4. And One Spells It Out For Fans
When you look at the side-by-side comparison, there's really no denying their similarities.
5. But Who Wore It Better?
In that screenshot, honestly, Swift is rocking it. Nothing against Kermit, though.
6. This Person Is Ready To Throw Shade
Does this count as shade? It's hard to tell. That cry-laugh emoji is so mysterious.
7. This Twitter User Has Made His Decision
Are you #TeamSwift or #TeamKermit? Choose wisely.
8. One Person Should Really Spend More Time On Twitter
If you're gonna beat the Taylor Swift Meme Machine during an album cycle, you have to stay up pretty late for it. Good effort, though.
9. Fans Are Already Finding Practical Uses For Kermit Taylor
If you're a last-minute Halloween planner, congratulations. The Internet has solved your woes. You get to be sassy and topical this year, rather than just a person in a sheet with holes again.
10. Folks Are Willing To Give Swift All The Credit
Twitter is memeing with Swift, not at her.
11. It's Already Migrating To Tumblr
Swifties move fast.
12. Taylor Swift Has Been In On It The Whole Time
Eleven days ago, this fan made a joke about how much Swift likes the Evil Kermit meme. This meme has been "over" for a while now — at least outside of the Swift fandom. Not to go full conspiracy theorist here, but is it possible that Swift loved the meme so much that she intentionally channeled it for the "Ready For It" video? The whole the old Taylor is dead vibe she's pushing for Reputation lends itself to Evil Kermit jokes easily. They almost write themselves.
So, was this on purpose? It's doubtful, but it certainly hasn't stopped Twitter from making the connection. Does she actually like the meme, or does she know it will keep her in the news? Is it ironic, somehow? This is too much. The only thing for certain at this point is that, as long as Swift keeps making music videos, Twitter will always be awake to poke fun at them.