I Used A Website To Find My Perfect Foundation & Realized I've Been Wearing The Wrong Shade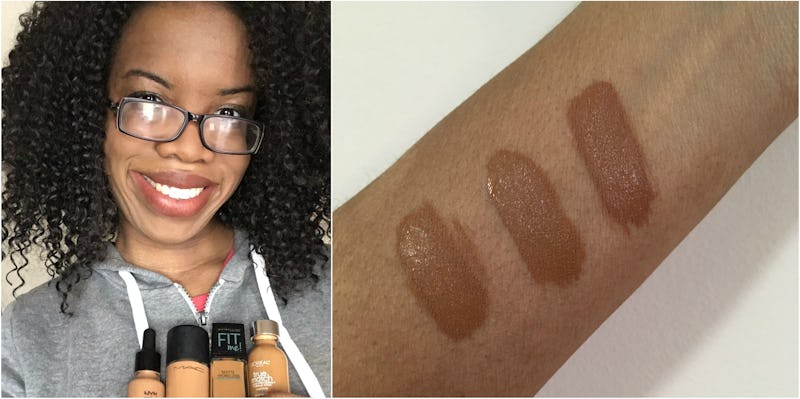 I came late to the cosmetics game, so it's no surprise that I've had a challenging time finding foundation that matches my skin tone. Other than experimenting with lipstick when I was young, I never made much of an effort to figure it all out. Sometime in my early 20s, a friend — and a fellow Black woman — gave me a makeover. Since then, I've been curious. Today, I still have to figure out contouring and highlighting, but I can handle my own makeup basics. And one of my favorite staple products — besides a bomb lip color — is a well-matched foundation.
But finding one is easier said than done. I don't live near a Sephora, and local stores don't always have testers. In the past I've resorted to guessing, but it's been risky. The last time I took a chance with a foundation shade, I was way off-base (no pun intended). Recently, I've taken to Googling makeup dupes. That's how I found Findation, the website that promises to use the info you provide about your current foundation to match you with dupes from other brands.
Findation offers a tool to help you color match different foundations to your skin, based on formulas and shades that you've already used. The process is pretty straightforward. First, you select a brand of foundation that you've used before. Then, you choose a specific product from that brand.
I started with L'Oreal and L'Oreal's True Match Super Blendable Liquid Makeup. For the third and final step, you choose a shade that you've worn. Mine was C7. You can add more than one brand's product, too. In addition to L'Oreal, I added MAC Studio Fix SPF 15 in NW43 and Maybelline Fit Me! Matte + Poreless in 340, aka Cappuccino.
When I last saw my results, it listed over 100 recommended foundations that I potentially matched with (all based on what I was already using), both drugstore and high-end. The concept is great, but it only matters if the results are accurate. That's why I decided to put Findation's findings (HA) to the test.
I've had my eye on NYX's Total Control Drop Foundation for awhile now, as I'd heard great things about its buildable coverage. It was a perfect opportunity to use Findation to find my correct shade in that brand. According to the site, my NYX Total Control Drop Foundation match is Mahogany. I bought it and swatched it, only to be immediately disappointed: It wasn't a match.
However, looking at the shade compared to the others I've already been wearing, I had an epiphany: By matching me with Mahogany, Findation did exactly what it was meant to: Find dupes in other lines for your current foundation shade(s) — not your actual skin. The Findation tool made me realize that none of the shades I was previously using were actually a match. If there's a foundation out there that's a better match for my complexion, I need to find it! And once I do, I can use Findation to show me some dynamic duplicates.
Of course, the Findation system isn't totally perfect. In Maybelline's new SuperStay 24-Hour Full Coverage Foundation, I was matched to 355 Coconut. Having seen that shade online and in person, I know it's not right for me. I can only assume Findation selected it because in Maybelline's range of darker shades, that color's the closest to the one I currently use — this is an important thing for WOC to take into consideration, as our skin tone is often much harder to match.
So what's my verdict? Ultimately I think Findation's useful. It made me realize that I wasn't wearing the right shade to begin with — no wonder none of my foundations have ever felt quite right. For makeup newbies, Findation is a great starting point, especially when approaching drugstore brands that come in a ton of shades. If you give the site info for one foundation you already use, it will (at the very least) give you suggestions for a few more. When it comes time to hit the drugstore aisle, that information is more than valuable.