We Now Know Who Will Question the 2020 Candidates At The First Democratic Debate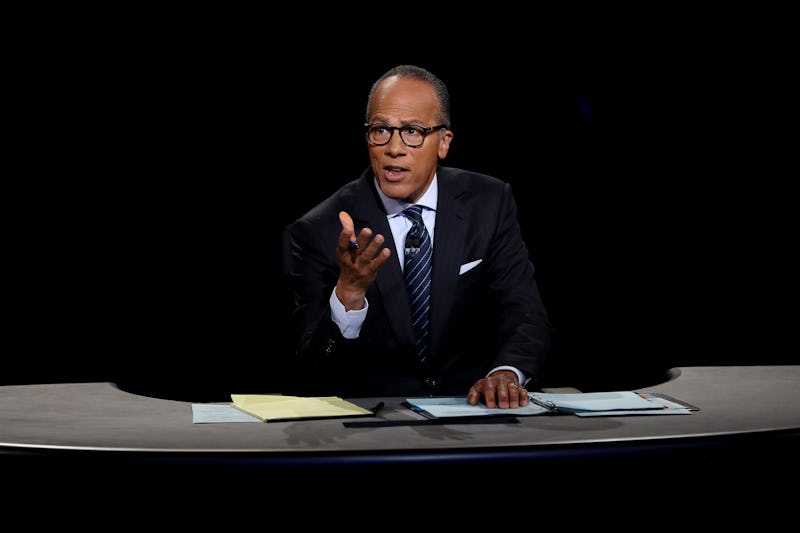 Joe Raedle/Getty Images News/Getty Images
Forget one debate moderator — or even two. With 20 Democratic hopefuls participating in the first 2020 primary debates on NBC, MSNBC, and Telemundo in late June, the number of moderators is up, too. The first Democratic debate moderators number five in total and will take turns on the debate stage — save Lester Holt who will appear for the full two hours each night, according to Deadline.
The DNC-approved debates are scheduled to take place from 9 p.m. to 11 p.m. on June 26 and 27 in Miami, with 10 candidates taking the stage each night, The Hill reported. Both debates will have the same moderators asking questions: Lester Holt, José Diaz-Balart, Savannah Guthrie, Rachel Maddow, and Chuck Todd. Holt will be moderating in the first hour and will be joined by Guthrie and Diaz-Balart. In the second hour, Todd and Maddow will moderate, and Holt will join them.
Holt anchors NBC Nightly News, Diaz-Balart anchors Noticias Telemundo and NBC Nightly News Saturday, Guthrie is a co-host on Today, Maddow hosts her own primetime MSBNC show, and Todd hosts Meet the Press. All the moderators except for Guthrie have experience from the 2016 debate cycle, according to Politico. Holt moderated Hillary Clinton and Donald Trump's first general election debate, Todd and Maddow worked together on a Democratic primary debate between Clinton and Bernie Sanders, and Todd and Diaz-Balart hosted a Democratic primary forum between the two candidates.
The New York Times reported that Maddow's inclusion is a "wild card of sorts" because she is a pundit on cable news — not the typical anchor who leaves their opinion out of the picture. The article compared two recent appearances by Democratic contenders on her show, Sens. Kirsten Gillibrand of New York and Kamala Harris of California. The Times reported that Gillibrand was challenged for changing views on gun control and immigration, whereas Harris was told there was a "good chance" she'd win the nomination.
Qualifying for the debate as a participant, though, seems to be much harder than qualifying as a moderator. The DNC has strict rules for who can be one of the 20 people on the debate stage. According to CBS News, candidates have two options to qualify. The must either receive donations from at least 65,000 donors to their campaigns (with at least 200 donors in 20 different states) or poll at least 1% in three polls recognized by the DNC. So far, all but four Democratic candidates qualify one way or the other.
Most controversially not qualifying is Gov. Steve Bullock of Montana. One of the polls where he met the 1% mark was later disqualified by the DNC. He said that he joined the race late to get a Medicaid expansion passed in his home state, where the legislature is controlled by Republicans.
According to Politico, the final slate of qualifying candidates will be decided on June 12. That's the deadline for meeting one of the above criteria. Currently, 13 have already met both requirements, and another seven have met one of the two, for a total of 20. The DNC has developed tie-breaking criteria if too many candidates qualify and participants need to be eliminated, according to NBC News.
That could cause some last-minute anguish for some. But, whichever Democratic candidates do make it to the stage, they now know who will be asking the questions.