This New Report Says The Gender Pay Gap In Trump's First Year Was Just As Bad As Before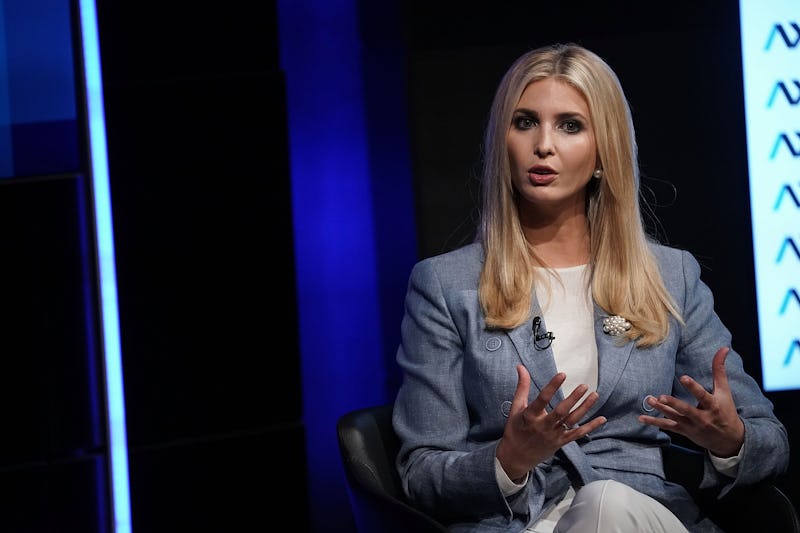 Alex Wong/Getty Images News/Getty Images
Although there has been much talk on the subject, the gender pay gap during Trump's first year remained exactly the same, according to a new census report released Wednesday. On average, women who worked full time in 2017 made about 80 percent of every dollar compared to their male counterparts.
The pay gap did not change between 2016 and 2017, and neither did the median earnings for men and women, according to the report. The real median earnings for men was $52,146, and for women that number was $41,977, per the report.
The pay gap may well have not changed at all because, as The Huffington Post highlighted, while the economy is widely understood to be doing relatively well, income stayed the same for both men and women. Such stagnancy doesn't leave very much room for change.
Notably, one high-profile presidential advisor and family member has made closing the gender pay gap one of her most frequent talking points — Ivanka Trump.
"Closing the gender pay gap is critical to the economic empowerment of American women, and it is the responsibility of all Americans to come together in pursuit of equal pay," Ivanka wrote on Instagram just a few months after her father was sworn into the presidency. "I am proud to work towards this goal alongside my father and in support of the administration's commitment to women and families."
Over the years, Ivanka has promised not only that she would fight to close the pay gap, but that her father, too, would join the fight. She even brought it up at the Republican National Convention during her father's campaign.
"As President, my father will change the labor laws that were put into place at a time when women were not a significant portion of the workforce," she said at the time. "He will fight for equal pay for equal work,and I will fight for this too, right along side of him."
But although she has expressed an interest in fighting the gender pay gap, the first daughter has been criticized for supporting actions that defang policy intended to combat it. For example, when the Trump administration opted to roll back an Obama-era rule that would have required large companies to disclose what they are paying their employees relative to their gender, Ivanka supported him.
"Ultimately, while I believe the intention was good and agree that pay transparency is important, the proposed policy would not yield the intended results," Ivanka said in a statement at the time, per The Washington Post. "We look forward to continuing to work with [the Equal Employment Opportunity Commission], [the Office of Management and Budget], Congress and all relevant stakeholders on robust policies aimed at eliminating the gender wage gap."
Of course, the pay gap won't close because of the work of one presidential advisor. But Ivanka's entire brand is centered on the idea of empowering women, and especially those who work. So when the pay gap doesn't budge at all under a president who repeatedly says he's focused on making good on his campaign promises, Ivanka's promises, as an advisor and surrogate, also immediately come to mind. For now, however, it appears to be business as usual.