The Genius 2-in-1 Product Beauty Editors Can't Stop Talking About On Instagram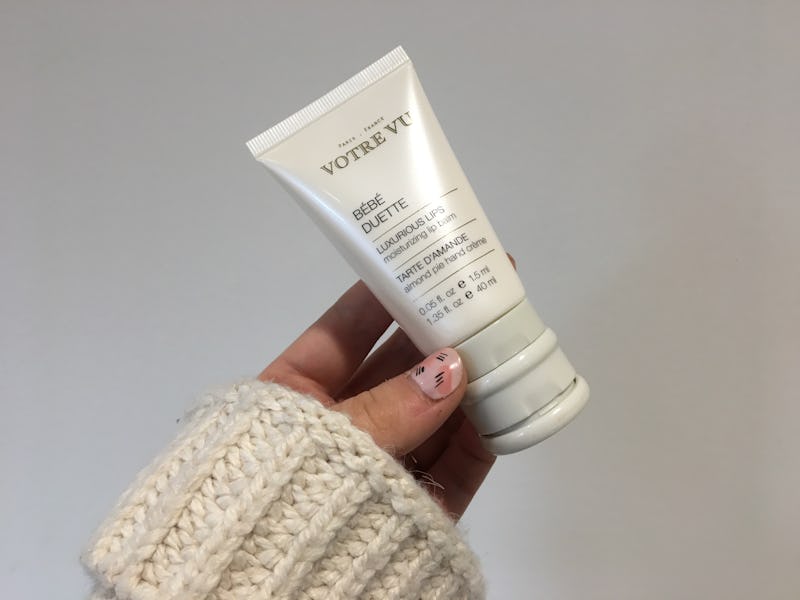 Olivia Muenter
I am always here for something that can accomplish two things at once. A vitamin that provides nutrition but is also shaped like a Flintstone character? Great. A spin class where I can both openly weep to Adele songs and get some exercise? Excellent. So a few weeks ago when Votre Vu sent me its Bébé Duette (fun to say, I know), a 2-in-1 moisturizing hand cream and lip balm, I was intrigued. The "luxurious lips" balm has just the perfect hint of pink and does, indeed, feel luxurious. The "Tarte d'Amande" almond pie hand créme actually smells like almonds, and it absorbs super quickly (my No. 1 requirement when it comes to lotion). The kicker? It all comes in one very convenient, user-friendly package. The product looks like a regular hand lotion, but there are two openings — one for the lotion itself, and another for lip balm and a tiny mirror. I had never even heard of Votre Vu before this item landed on my desk, but suddenly I was a huge fan. The name was fun to say, it was convenient, it was effective — what's not to love? I thought I was the only one who was obsessed with this little beauty tool until I started seeing it on basically every beauty editor's Instagram story.
Now, a beauty editor's Instagram story is a very particular type of thing. There's the constant stream of event coverage in which a celebrity is present (this celebrity is somehow almost always Olivia Culpo). There's the unboxing of packages that I am still unsure how people film with one hand. And, of course, there's the more-than-occasional product review. Of course, it's no surprise that big-name, cult-favorite beauty products make editors' stories. But there is also the occasional little-known gem that makes its way through all the XL palettes and highlighter swatches. Enter: Bébé Duette (can confirm this name only gets better the more you say it out loud, by the way).
No matter what the publication, over the last few weeks, everyone started talking about this little 2-in-1 miracle product. Editors said it saved their lives as a desk staple, that it made their lives easier.
Lindsey Metrus, Managing Editor at Byrdie, is one of those editors I saw posting about the Bébé — and she tells me that this little guy is, indeed, a gamechanger.
"If there's one thing I can always count on, it's that come wintertime, my lips will be chapped and my hands will be dry. In an effort to remedy both, you'll find five different lip balms and three different hand creams floating around the bottom of my tote, usually dusted with crumbs and weird bag lint," Metrus says. "But when I discovered Votre Vu's ultra-chic Bébé Duette, I finally purged my bag stragglers and let it take supreme reign. Typically, two-in-one products have one element that outshines the other, but both the cream and the balm hydrate my hands and lips (respectively) in a deep, non-greasy way. Plus, there's a handy mirror in the cap for easy touch-ups or post-lunch teeth checks. And, since I'm sucker for anything that smells good, I can't get enough of the almond-coconut scent and would cover my entire body in it if I could."
This stuff is the real deal, folks. And the Bébé lives up to the hype.
Plus, after some research on the Votre Vu site, it turns out this handy little item doesn't include any "toxins, parabens, GMOs, triclosan, talc, gluten, sulfates or phthalates" and it doesn't test on animals. It does, however, contain aloe leaf extract, beeswax, carnauba wax, castor oil, coconut oil, grape seed oil, hydrolyzed collagen, jojoba oil, shea butter, sunflower seed oil, and vitamin E acetate. Sure, it's $24, but let's face it — we've all blacked out at a CVS at one point or another and spent more than that on some Cheez-Its and a fancy body wash.
The hand lotion (which comes in scents of both almond pie and pamplemousse AKA grapefruit, for us non-Parisians) is straight-forward, but the framboise (raspberry) lip balm adds the most subtle hint of pink to your lips. It also comes in clear, but having a little color on hand is almost always a good thing. See the tiny hint of pink below.
Another perk? Not only can the balm can be used as a lip primer for just about any color, but the lip balm compartment has a tiny mirror, too. This is the Inspector Gadget tool for beauty, I'm telling you.
Whether you're considering giving this little duo as a gift to a friend, purchasing it as a go-to travel staple, or buying it as the perfect everyday purse item, trust me — you're making the right decision.