Why You Need To Rewatch This 'Gilmore Girls' "Pulp Friction" Scene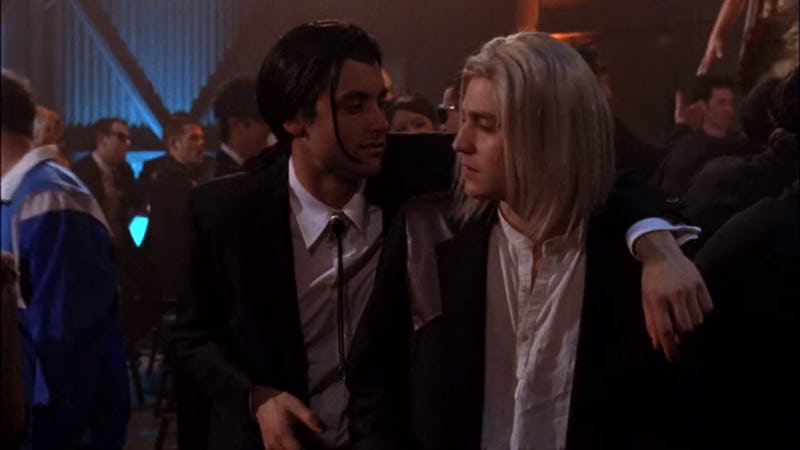 Warner Bros. Entertainment
Any Gilmore Girls fan who remembers Yale's Life & Death Brigade knows for sure by now that, with all the swanky parties they threw, the mysterious group was never a stranger to having a good time. You'll probably never forget the first get together that Rory got to experience with the group — the 1930s-inspired costume party — but the Pulp Fiction party shown in Season 5 was equally as memorable. So memorable, in fact, that Tanc Sade just revealed at this weekend's Gilmore Girls Fan Fest panel why you should probably go back and watch that "Pulp Friction" scene one more time.
Season 5, Episode 17 of Gilmore Girls sees the Life & Death Brigade throwing a party in which every attendee dresses up as a character from Quentin Tarantino's Pulp Fiction. According to Sade and Alan Loayza, who played Finn and Colin on the show respectively, Sade filmed the entire episode with a gruesome injury that fans might be able to notice upon going back and watching it. The actors revealed the behind-the-scenes detail on Saturday at the Gilmore Girls Fan Fest in Connecticut while sitting on a Life & Death Brigade panel moderated by Bustle's TV editor, Martha Sorren.
"'Pulp Friction' was painful for me," Sade started off. "I had a rugby game the day before, and I got into a nasty tackle with this 350-pound Tongan dude. And I had a grade 5 shoulder separation." Ouch. If you think that sounds bad then you might want to brace yourself, because that's not even the worst part.
"My collar bone ripped out of my—it was pointing up like that," he continued, gesturing to the crowd what a grade 5 shoulder separation looks like. "And it was my first job in America and I was so nervous and I didn't want Warner Bros. to know because I thought they'd fire me. So I showed up on set in the morning and I said, 'Alan, I'm scared. I can't tell these people that I'm injured.' So we worked the whole 15 hours and I was in so much pain."
"If you ever watch that episode again, the whole episode has my arm like this because I couldn't move it. I physically couldn't move the right side of my body."
And obviously he's not wrong. If you go back and watch the scene carefully, you'll notice that, at certain moments, Sade is only acting with the left side of his body while filming next to his co-stars. Watching the scene and knowing how much pain he was in at the time makes it a little harder to watch but at least he was able to get through it and take it like a champ.
Sade also joked later on in the panel that he politely asked the director if the scene could be filmed on his left side, though the right side is still what ended up being filmed in the end.
Though Sade's injury is one of the more interesting highlights of the Life & Death Brigade panel, that's not all that he and Loayza opened up about on stage. After fans were left in the dark about who the father of Rory's baby might be at the end of Gilmore Girls: A Year in the Life, both actors discussed their own theories. (Spoiler alert: They're pretty sure it's Logan and, really, can you blame them?). Loayza also mentioned that, when it comes to the never-ending debate about which of Rory's boyfriends was the best, he would also choose Logan. You have to give it to him for being so loyal to his on-screen BFF.
If you weren't at the Gilmore Girls Fan Fest this weekend, you missed out on a lot of free coffee and a lot more sweet details you never knew about the show. If you're feeling nostalgic and you're in the mood to marathon through the show again, just make sure you re-watch the "Pulp Friction" scene before anything else.