This New Novel About A Female CEO Struck By Lightning Is Unlike Anything You've Read Before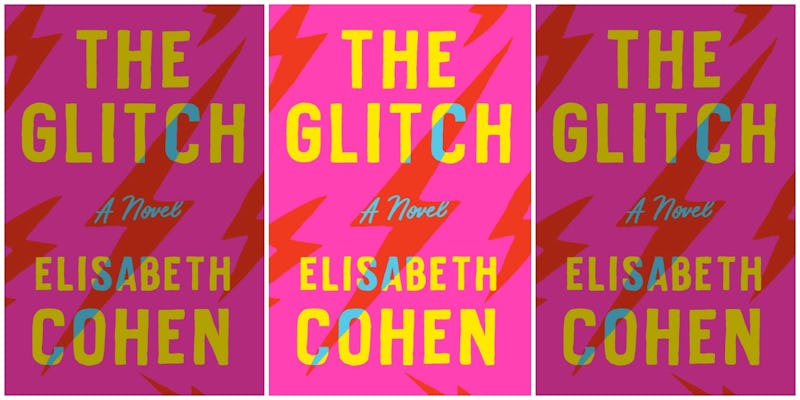 Ferris Bueller cautioned us in 1990 that, as the famous quote goes, "Life moves pretty fast. If you don't stop and look around once and a while, you could miss it." Yet, almost 30 years later, it seems like we still haven't learned to heed his warning, and American life is even more demanding, even more fast-paced than it's ever been. What is it going to take to slow us down, to make us appreciate what is right in front of us, before it's too late? According to Elisabeth Cohen's novel, The Glitch, out now from Doubleday, the answer lies in our dopplegängers.
Shelley Stone is the CEO of Conch, a wearable tech company whose behind-the-ear device helps its users do everything from play music, answer texts, and get directions to monitor vitals, stay on schedule, and work more efficiently. One of the hottest gadgets on the market, the Conch is perfect for someone like Shelley, whose Type A personality dominates everything in her personal and professional life.
Shelley wasn't always the kind of woman who sets an alarm for 3:30 in the morning so she could have some "me time," or schedules sex with her husband. Before being struck by lightning on the front porch of her family's Wisconsin home, she was an aimless 20-year-old with little to no real ambition. After the accident, she was utterly transformed, and years later, credits the electricity for giving her drive and rewiring her brain in a way that helps her effectively balance her roles as high-powered tech executive, an industry leader, and a married mother of two. It's one of the reasons her TED Talks are so popular.
As Shelley explains early on in the novel:
"Women hold the CEO job at less than five percent in Fortune 500 companies, and that rate only climbs slightly — I think it's five-point-one percent — when you expand that to the Fortune 1000. Women have around sixteen percent of the director's seats in corporate America. Ten percent of companies have no women directors at all. Surely there's something here that has given me this ability. Everyone sitting in the audience takes it on faith that it does, that the shot of electricity and the resulting agony were what it took for me to get here. Or that I am special, chosen in some way, which is why when that beam of lightning came down, it jumped from the sycamore to me."
Who cares if it seems like her pleasure receptors are offline, or that the new her is considered "unlikeable" by any standard definition? Certainly not Shelley.
Or at least, she didn't, until a series of strange events leads her to question everything about herself and her carefully plotted life. First, in France on a family vacation, her four-year-old daughter Nova disappears while she and her husband, Rafe, are too preoccupied on separate business phone calls to notice. When a strange man calls to let Shelley know he has her child, she is immediately suspicious of the circumstances: Did the man kidnap Nova as part of some kind of dastardly plan to ruin her or her business, or is he just a good samaritan who helped her family reunite?
Then, weeks later, she has a second, even more bizarre encounter with Michelle, a younger woman who shares the same name, appearance, and even she same scars as Shelley. The only real difference between to two is that the down-to-earth Michelle has a sense of calm Shelley hasn't known for decades. Unsure if the girl is her pre-lightning strike 20-year-old self, a mental breakdown brought on by stress, or her rival's attempt at corporate espionage, Shelley is determined to uncover Michelle's true identity. That is, if she has time. Not only is Shelley dealing with the fact that a younger version of herself has possibly materialized, but after Conch's new product malfunctions in a major way, the stressed out CEO has to work overtime to protect her company and save her own job.
The Glitch by Elisabeth Cohen, $24, Amazon
A wonderfully layered novel that blends humor, mystery, and social critique, The Glitch is a unique reading experience, one that at first presents itself as a kind of breezy women's fiction-style beach read only to later reveal its true satirical colors. A story that tackles everything from modern motherhood, the sexism women face in tech, and the conflicting ideas of perfection and happiness, Cohen's sharp debut is a funny and fiercely feminist appraisal of Silicon Valley and the pressure women face in a Sheryl Sandberg, Lean In kind of world.
Through the first person narration, readers are given a chance to explore Shelley's thoughts. Not only is the book's heroine driven and determined in her work, but she strives to be efficient in everything she does, including her health, her family, and her sex life. That's why she takes men's multivitamins. "Why would I take vitamins for women?," she asks. "Because I want less of what's important, fewer nutrients and minerals? I refuse to conspire in my own oppression."
It's also why, according to Shelley, she relates to Kirsten Dunst's character from Bring It On: "because someone has to show leadership and make it happen when chaos is breaking loose, and the movie is truthful about the hardships associated with that." Shelley also loves the cheer sequences in the film, but that is a something she only shares as an afterthought, because like in most other areas of her life, she has no time for pleasure, even in her movie viewing. More accurately, she has no need for it. "We live expensively but it's all about our work," she says of her and Rafe's lifestyle. "Not pleasure — pleasure is not something I have much time for, the politeness of it, the inefficiency and excess."
Like Shelley's own husband does throughout the book, readers will question whether or not this heroine is happy, or capable of happiness, given her overscheduled lifestyle, excruciating attention to detail, and constant drive for innovation and improvement. To someone like Shelley, though, it is those very things that bring her joy, or something close to it. Without the possibility of progress, she would likely argue, what's the point?
Take her sex life with her husband. Even when she describes her husband's erection, it's in business-like terms. "I like the moment when the penis swells and comes uncapped," Shelley observes. "It appeals to my interest in tracking progress through measurable results."
Just when she starts to seem like a caricature of a real person and readers start to question her thoughts or actions — like when she asks Rafe how his phone call went as they search the French streets for their missing daughter — Shelley acknowledges her own absurdity and offers up a justification that feels genuinely believable in the context of a life like hers. "You might think, how could I ask that at a time like this? But it was hard to know what to do, it was my reflex, and Rafe and I talked always about work," she explains. "It was a self-leveling sealant that coated every surface of our lives, and seeped into the cracks and fissures of every moment. It was our hello, goodbye, how are you, I love you."
A sharp and clever debut that looks like a beach read and acts like a outrageously fun satire, The Glitch is a must-read for anyone struggling under the pressures of the modern, tech-heavy world.