'Grown-ish' Has A Premiere Date & You Already Won't Want To Miss An Episode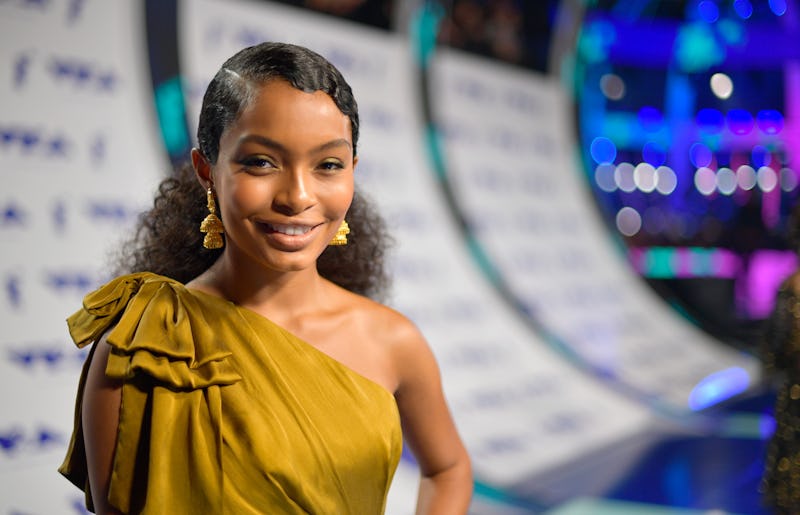 Matt Winkelmeyer/Getty Images Entertainment/Getty Images
What do you do when your show is universally acclaimed, raking in awards, and tackling social issues to boot? Why, you spin it off, of course, and then you announce the premiere date, because black-ish fans can't wait to see what the creators do next. Freeform announced Wednesday that the grown-ish premiere date is Jan. 3, 2018, just in time for your next New Year's resolution to watch more stuff that matters. (It's a fun little way to reward yourself via your Netflix queue.)
As you've surely put together by now, grown-ish is the spin-off the wildly popular black-ish. In its four seasons on the air so far, it's garnered everything from NAACP Image Awards, to an MTV Movie Award, to a Golden Globe for its star Tracee Ellis Ross, to seven Emmy Award nominations. It's even been nominated for a Kids' Choice Award, so this show has been winning hearts and minds across the board since day one.
And thus far, grown-ish looks poised to do the same. It follows the character of Zoey Johnson, played by Yara Shahidi and daughter of Dre and Rainbow, as she sets off for her freshman year of college. But if you were worried that time away from her family would mean a decrease in the thought-provoking storylines offered up by the original series, think again.
While Freeform assures fans that their new half-hour offering will still be a comedy, the network also promises in the press release that it will tackle the "current social issues and complexities facing both students and administrators." That likely means the same issues of race, gender, intersectionality, and class that black-ish cut its teeth on, with a healthy dose of humor to wash it all down.
The season premiere will actually be two episodes in one — lucky you! — and provide an introduction to a cast that includes American Crime's Trevor Jackson, The Good Place's Emily Arlook, and Francia Raisa from The Secret Life of the American Teenager. Plus, if you've been missing him popping in as Dr. Spaceman on all those 30 Rock episodes that got pulled off of Netflix, you'll be relieved to hear that Chris Parnell will be playing Dean Parker, presumably the dean of the school. (Or, y'know, maybe just a funny guy named Dean. We'll all find out in January.)
A college campus is a particularly apt location to take the black-ish spinoff, and in more ways than one. It moves the conversation about all these tough-to-tackle topics outside of the family and into the real world, where sometimes the answers can get even bigger and scarier. Zoey is setting out on her own to dip a toe into what it means to be an adult, a process that most of us probably still feel we're in the midst of. You might know of it as "adulting," but it's the same concept.
Some days you just have a toe in the water, trying to do your laundry for the first time before calling your mom in tears because you shrunk your favorite shirt. And sometimes you dunk your whole head underwater and confront systemic racism in the form of a microaggression in your Econ class on the same day that you turn in your financial aid application and manage to make your bed before you rush out the door. Basically, the time and location are both ripe for a lot of A. humor and B. discoveries from our girl Zoey, and 17-year-old Shahidi is the perfect person to usher us through.
Not only does she have four seasons of experience of playing Zoey under her (very fashionable) belt, but she's also a real-life student. You're aware that your girl was accepted at Harvard, right? And she's an activist as well? She's basically living that Zoey Johnson dream, and the rest of us are lucky that we get to sneak a peek into both of their extremely compelling lives.