These Photos Of 'Hogwarts In The Snow' Will Make You Want To Visit ASAP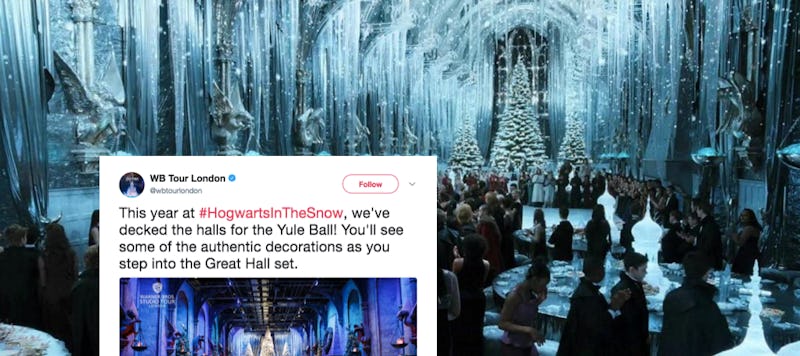 Warner Bros. Pictures; WB Tour London/Twitter
It is a fact of life that the holiday season is the perfect time of the year to enjoy Harry Potter, thank you very much. For some fans, that means watching all eight movies in a row (ambitious); for others, that means re-reading the books in their entirety (very ambitious); and for a lucky few, that means heading out on an adventure to the Wizarding World of Harry Potter at Universal Studios or to WB Studio Tour. (extremely ambitious.)
This year, WB Studio Tour in London is hosting a special event that celebrates the wintry aspects of the series. Hogwarts In The Snow, which runs until Jan. 28, 2018, allows Potterheads to experience the Wizarding World of Harry Potter as it looks during the Yule Ball: sparkling, silver, and covered in snow.
On the tour, you can see the movie's most iconic sets decorated for the holiday season. The Gryffindor common room will be cozily accessorized with original props from the movie, and The Great Hall will be outfitted in full Yule Ball attire, with Christmas trees, icicles, and specially designed sculptures. And of course, everything will be sprinkled with a blanket of shimmery filmmaking snow.
Although the tour doesn't include a real meal in the Great Hall, an imitation of the traditional Hogwarts feasts will be laid out. That means roast turkeys, stuffed hams, and of course, Christmas puddings surrounded by real flames.
If you can't stomach the idea of being able to see food you can't actually eat, you can book an actual dinner in the Great Hall. Although the studio tour is no longer hosting any holiday-themed dinners, you can book an evening in the Great Hall for Valentine's Day.
The Valentine's Day dinner comes at a steep cost — £495, or approximately $663, for two people — but for devoted Potterheads, it might be the perfect way to celebrate the holiday of love. Couples who buy tickets for the dinner will be greeted in the Great Hall with a special Love Potion cocktail, before being served a three-course meal. After the meal, guests will given exclusive after-hours access to the Studio Tour and can imbibe at drinks at Platform 9 3/4 — though ramming yourself into a brick wall is not advised. Tickets are available now for the evenings of Friday, Feb. 9 or Saturday, Feb. 10.
If you can't make it to Hogwarts In The Snow this year, start saving your Galleons: the experience returns to London on Nov. 17, 2018 and will run through January 2019.