The 'If You Give A Mouse A Cookie' Trailer Will Make Even Adults Want To Watch The New Kids Show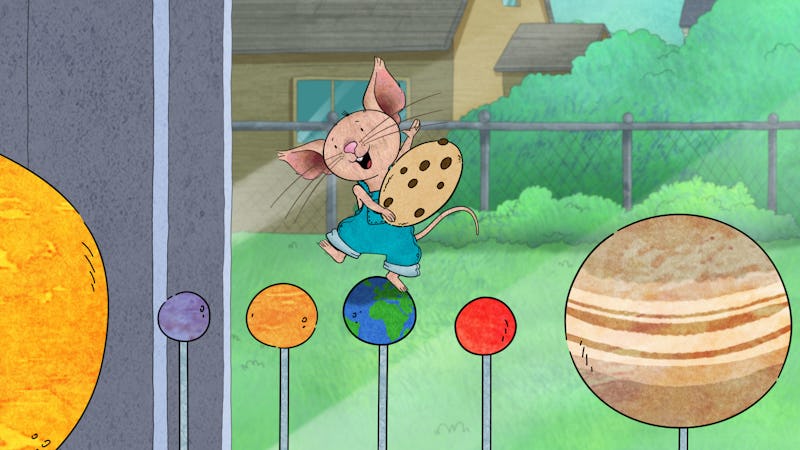 Amazon Prime Video
You may not be a kid anymore, but that doesn't mean you can't watch TV made for one. Case in point: One of the most beloved children's books of all time is coming to the small screen very soon. The first If You Give A Mouse A Cookie trailer has just been released, and the story is as adorable as ever. On top of that, this show, which, yes, is aimed at preschoolers, will give you some nostalgic feels no matter how old you are.
This is mainly because the little hungry mouse looks the same as he did 32 years ago when he first hit bookshelves, still the little curious mouse you knew and loved as a kid. And for another blast from the past, this new show is written and developed by writer Ken Scarborough, who worked on other kid TV staples Arthur and Doug.
The first season of If You Give A Mouse A Cookie, based on the 1985 book of the same name written by Laura Numeroff and illustrated by Felicia Bond, premieres November 7 on Amazon Prime Video. For those who need a refresher, the book is a philosophical tale about how one decision can set off a chain of events you never expected. In this case, it's a mouse wanting a cookie only to need a glass of milk and then a straw and then a mirror to make sure he doesn't have a milk mustache. And, well, you get it: things begin to spiral a bit out of control.
As far as this trailer goes, though, everything seems to be going according to plan. In fact, Mouse is working hard to make sure Oliver gets up on time for school and performs his morning dance. (Which, let's be honest, is something you may even find yourself adding to your regular wake up routine.) He's also pictured helping Moose take in his groceries, which includes riding the tiniest skateboard to chase down his oranges.
If You Give A Mouse A Cookie is just one of many animated kid's shows Amazon has added to its prime video roster since 2015. Back then, Tara Sorensen, head of kids' programming for Amazon Studios, told Variety, "Our new kids pilots will combine rich worlds with unique characters that we hope will appeal to our customers." Well, it's clear the company is delivering on that promise with shows that don't just appeal to kids but that appeal to adults, too.
Earlier this year, Amazon Prime Video debuted the animated series Danger and Eggs, which featured a little girl named D.D. Danger, voiced by Saturday Night Live's Aidy Bryant, who is trying to become a stuntwoman with help from her overly cautious best friend, which just so happens to be a giant egg. It's weird and delightful, and, though it's aimed at kids 6-11, you might find yourself wanting to watch it. Back in July, NewNowNext even called Danger and Eggs "the queer cartoon we've been waiting for."
Cartoons have never just been for kids. So, even though, If You Give A Mouse A Cookie skews a bit younger, there are things that adults can take away from it to. In fact, two years ago The Washington Post wrote about the "secret political message" of If You Give A Mouse A Cookie, explaining that it was a commentary on the welfare system in America. Who knew? (Although, to be fair, leave it to adults to find a deeper meaning in a cartoon mouse's adventures.)
Essentially, this show may targeted toward an audience of children, but if you want to check out a few episodes yourself, go right ahead. No one's judging you.