Inauguration Day Weather Follows A Pattern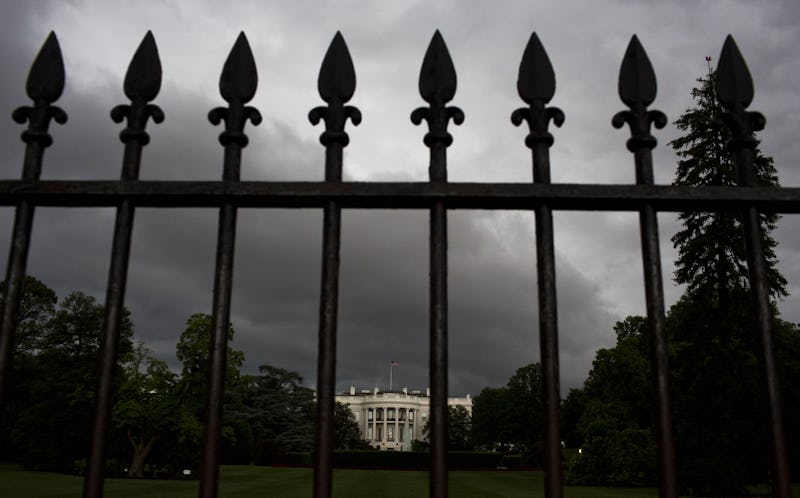 ANDREW CABALLERO-REYNOLDS/AFP/Getty Images
Preparations for Donald Trump's inauguration ceremony in Washington, D.C. are underway. And while who won't be there is causing as much of a stir as who will, the weather that day promises to be much more predictable. Early weather forecasts for Inauguration Day on Jan. 20 are calling for cold temperatures and rain. And while such dreary weather will match the moods of the millions of Americans who opposed a Trump presidency, bad weather seems to be an Inauguration Day tradition.
According to the National Weather Service's website, the past few inaugurations have been cold and cloudy. Bill Clinton's 1993 inauguration, which is recorded as "sunny and pleasant" with a midday temperature of 40 degrees Fahrenheit, stands apart as one of the few recent presidential inaugurations that wasn't a pain to attend outdoors. Years prior, Ronald Reagan's 1981 ceremony featured the warmest weather for a January inauguration at a recorded 55 degrees Fahrenheit.
Though the Washington Post reports that Republican inaugurations enjoy slightly warmer temperatures on average, the weather may prove to be about as nonpartisan as things get in Washington, D.C. this Inauguration Day. Still, people will be looking to the skies to reflect or characterize their feelings about the day in general. Comedian Keegan-Michael Key got a head start on the jokes when he starred in a Save The Day video lampooning weather on the occasion of Trump's inauguration back in October.
With the fateful day arriving in the dead of winter, it's no wonder that the weather is traditionally bleak. Inauguration Day is scheduled for Jan 20 (or Jan 21, if Jan 20 falls on a Sunday) each year thanks to the 20th Amendment. Before 1937, when the amendment was ratified, presidential inaugurations took place on Mar 4.
Trump's swearing-in will take place rain or shine. The only event that seems to be threatened by possibly rainy weather is Trump's inaugural parade. The forecast may also deter some of the thousands expected to attend in support and protest of Trump and his administration.
But from the controversy surrounding performers at the event to news that a D.C. group will be handing out free marijuana that day, the weather will probably be the among the least headline-making details of Inauguration Day 2017. And unless a warm, sunny day miraculously emerges that morning, Trump supporters will be celebrating despite the weather, while Trump opponents will be mourning in keeping with it.