Watch The 'Mean Girls' Cast Reunite To Raise Money For The Las Vegas Victims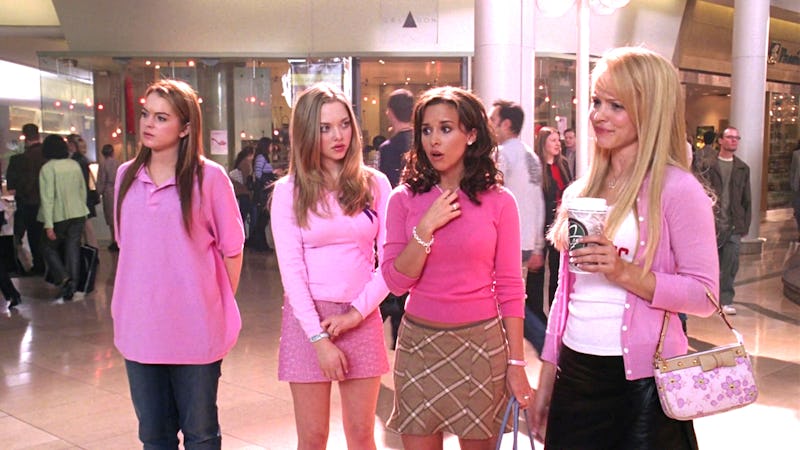 Paramount Pictures
On the holiest of pop culture days, the Mean Girls cast is reuniting to give substantial meaning to October 3 (otherwise known as Mean Girls Day). Cast members Amanda Seyfried (Karen Smith), Lacey Chabert (Gretchen Wieners), Daniel Franzese (Damian), and Jonathan Bennett (Aaron Samuels) have joined forces after 13 years since the movie premiered for a good cause. The actors are calling on "the groolest fans out there" to visit their GoFundMe initiative "Mean Girls for Las Vegas" and donate to help victims of the Las Vegas massacre.
Their goal is to raise $300,000, with 100 percent of the proceeds going to the National Compassion Fund. The support will aid victims of the Sunday tragedy, deemed one of the deadliest mass shootings in American history. From floor 32 at the Mandalay Bay hotel, the shooter took aim at the massive crowd watching Jason Aldean perform at a country music festival Sunday night. The videos from Sunday's attack are disturbing, and the death toll has risen to 59 with at least 527 injuries.
However, this program is part of the National Center for Victims of Crime and has previously given financial help to victims of the Pulse Nightclub shooting, the Aurora shooting, and September 11. The process is quick, simple, and rewarding for any Mean Girls fan or supporter who wants to help. Donators can even give as little as $5 for the cause. On top of that, the cast members put together a video in which they urge fans to donate — while sprinkling in classic Mean Girls references, of course.
"Look, we know fetch is never going to happen, but we can make this happen," Chabert said. Samuels called fans "grool," and Franzese gave a shoutout to Glen Coco. The nostalgia makes it impossible to resist giving back. "Thank you for being a fan and thank you for your help," Seyfried told fans.
After 17 hours, the initiative has had about 600 donators and raised about $10,000, and the numbers are growing at a quick pace. And, so far, fans are giving wonderful responses to the cast's initiative. Comments on the GoFundMe page are inspired by movie quotes and include remarks like, "I can't help it if I have a heavy cash flow and a wide-set donation," and "There are two kinds of evil people in this world. Those who do evil stuff and those who see evil stuff being done and don't try to stop it."
The cast's initiative occurs in the midst of the the highly anticipated Mean Girls Broadway musical, which is finally beginning to take off after it was officially announced by writer Tina Fey in spring 2016.
Other key players from Mean Girls, like Rachel McAdams (queen bee Regina George), Fey, Amy Poehler (Mrs. George), and Lizzy Caplan (Janice), have refrained from social media for some time now and do not have accounts on Twitter or Instagram. Mean Girls star Lindsay Lohan (Cady) does have a Twitter account, but she hasn't commented on Sunday's events.
In addition to the Mean Girls cast, other celebrities have used their platform in the days following the shooting to help victims and their families. On Monday, Lady Gaga led a digital meditation via Instagram Live, preaching the power of calmness and inner peace while she took a moment to reflect and reveal her mantras. Artists like Jennifer Lopez, who currently performs in her Vegas residency "All I Have," have shared important information on where Nevada residents can donate blood for the hundreds of severely injured victims.
Basically, celebrities like the Mean Girls cast are using their fandom in the best possible way — raising awareness and making donations happen.