You Can Now Throw Shade At Your Ex At The Museum Of Broken Relationships In NYC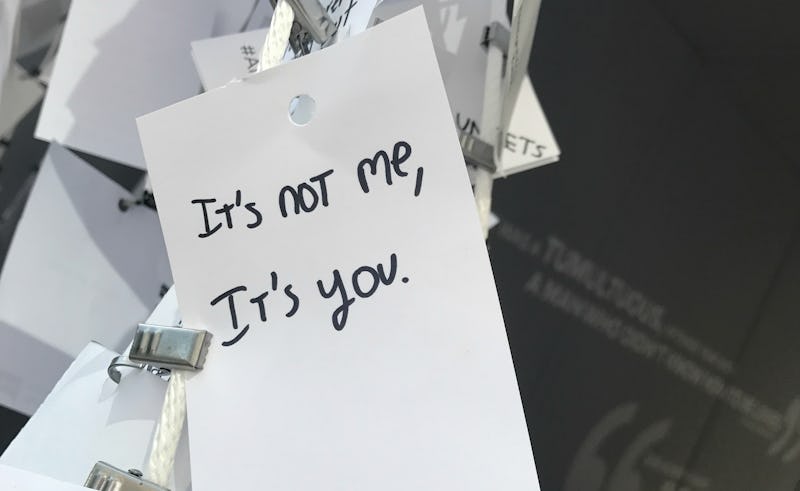 Michelle Toglia/Bustle
If you could say *one* last thing to your ex what would it be? That's the basis for a new Bravo show A Night With My Ex (premiering July 18) and the Museum of Broken Relationships: The EX-hibition a pop-up museum in New York. The crowdsourced exhibit features a touching collection of objects from New Yorkers' breakups, from Ramona Singer's wedding announcement photo to Madonna's letter to John Enos to Amanda Chatel's box of rice pilaf, to my glittery Sperrys. The stories that come along with them are heartwarming, heartbreaking, and even sometimes even a bit salty.
But perhaps what will tug at your heartstrings the most (if you're not already crying) are the messages from anonymous visitors and online participants (you can see messages from social media coming out of a small printer in real time) hanging from the installation that all answer the simple question: "What would you say to your ex?".
It's a tall order, and one that forces you to sum up the end of your relationship in one sentence. But it's important to think about. Are you better off? Angry? Not over it? At peace? For some, what they'd say to a former partner is "good riddance!" For others, it comes down to the burning question they've been wondering for years about what went wrong. And for others, it's a heartfelt apology or confession they've been bottling up.
Here's what museum visitors and online participants want to say to their exes:
1. When It Still Hurts
"You cheated on me and I could never repair the damage you did to me."
2. When You Still Care
"I still love you and always will"
3. When It's Laughable
"LOL"
4. When You're At Peace
"It's over. Let it be."
5. When You're Over It
"Goodbye — to you and your nonsense :)"
6. When They Actually Did You A Favor
"You didn't break me. You Just made me stronger."
7. When You're So Done
"Bitter should taste good in your mouth. Bye boy."
8. When You're Grateful AF
"I am glad I broke up on your birthday, and i am glad you never got to propose to me!"
9. When You're Both At Fault
"You weren't a very nice person, but neither was I."
10. When You Turn The Tables
"It's not me, it's you."
11. When You Have Regrets
"I'm sorry, I failed you, and I failed us."
12. When You Got Something Out Of It
"Thanks for all the nice jewelry! <3"
13. When You're Starting To Make Sense Of It
"I have her my heart & she gave me a pen."
14. When You're Still Thinking About Them
"I miss you."
15. When You Know You Have To Let Go
"I love you more than anything, but I can't keep losing myself."
16. When You're Accepting What Happened
"I forgive you."
17. When You Finally Find Closure
"After everything, I hope you're doing well. I'm sorry for all my mistakes & I forgive you for yours <3 you to the moon."
Breakups are complicated — there's no way around it. While we may dream of reaching a place where we're wishing our exes well like the note above, it's not always easy (or completely possible) to actually get there. One thing's for sure, as this pop-up illustrates, heartbreak is 100 percent human, and chances are, there are plenty of people who know exactly how you feel.